Your computer stores all the installed fonts in a directory called the Windows font. It is an essential part of the operating system that allows you to customize the appearance of your documents, presentations, and websites.
Fonts play a crucial role in design and aesthetics, whether for creating a website, designing a logo, or crafting visually appealing documents. As a Windows user, you can access Windows Font, a powerful tool that allows you to manage and install fonts on your computer.
We will walk you through everything you need about the Windows Font Folder. From accessing the folder to adding and removing fonts, previewing and installing fonts, and even troubleshooting font installation issues – we've got you covered.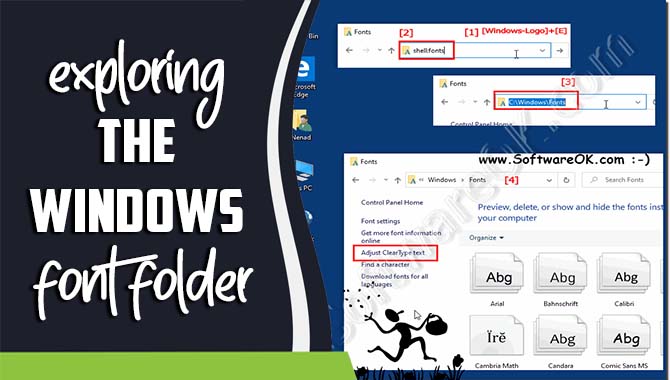 How To Use Windows Font Folder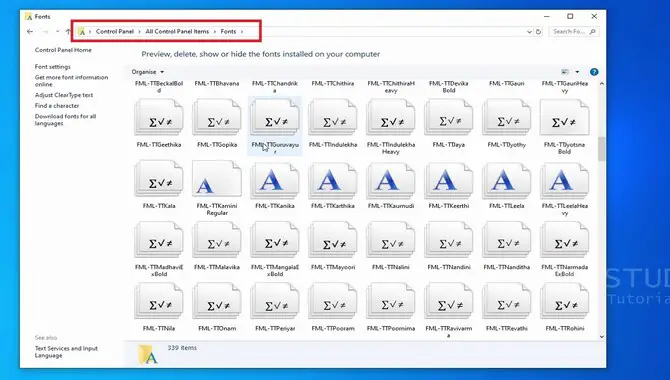 Using the Windows Font is essential for managing and organizing fonts on your Windows PC. It's important to know how to locate the Font Folder on your computer to get started. Once you find it, you can easily install new fonts from external sources, expanding your font collection and allowing for more customization options.
In addition, managing and organizing fonts within the Font Folder is crucial for efficient workflow. You can preview and select fonts for various applications, ensuring you find the perfect style for your projects. Furthermore, the Font Folder helps you troubleshoot common font-related issues and errors, guaranteeing a seamless font experience on your Windows PC.
How To Install Fonts From The Windows Font Folder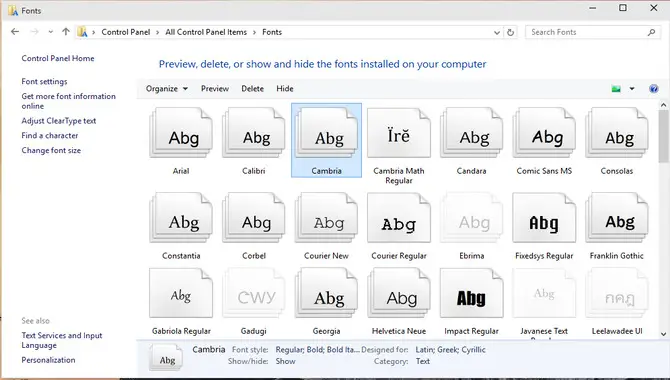 Installing fonts from the Windows Font is a simple process that can be done in two ways. You can add new fonts by dragging and dropping the font file into the Font Folder or by right-clicking on the font file and selecting the "Install" option.
Once installed, the font will be available for use in applications such as Microsoft Word, Photoshop, and other programs that use fonts. Choosing fonts wisely is essential, and only installing those you plan to use frequently to prevent clutter on your PC. Installing too many fonts can slow your computer, so be mindful of your font choices.
How To Access The Windows Font Folder
The Windows Font is the directory that stores all the fonts installed on your computer. You can access the Font Folder by opening the Control Panel and going to the "Fonts" section. Within the Font Folder, you can perform various actions such as viewing, installing, uninstalling, and managing fonts.
If you want to get a preview of how a specific font looks, simply double-click on it in the Font Folder. To keep your fonts organized and easily accessible, you can create different categories or folders within the Font Folder. This allows you to find and utilize the fonts you need quickly.
How To Add Fonts To The Windows Font Folder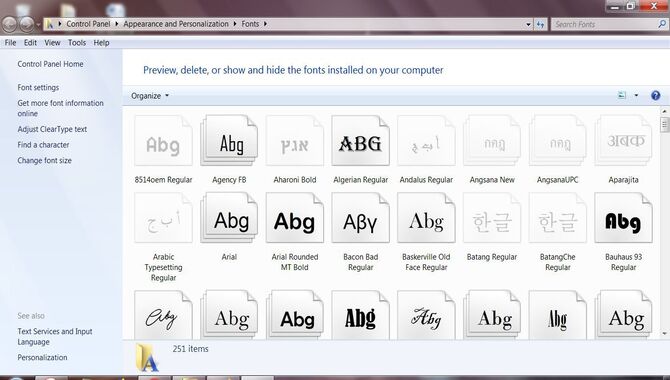 You have a couple of options to add new fonts to the Windows Font. One option is to download fonts from websites that offer various font options. These fonts are usually available in file formats like .ttf (TrueType) or .otf (OpenType).
Once you have downloaded the font file, you can easily install it by right-clicking on the file and selecting "Install." This will automatically add the font to the Windows Font, making it available for use in various applications on your Windows PC, such as Microsoft Word or Photoshop.
Another option is to manually copy and paste the font file into the Fonts folder in the Control Panel. To access this folder, open the Control Panel and navigate to the "Fonts" section. From there, you can simply paste the font file into the folder, which will be installed in the Windows Font. After adding the new fonts, they will be ready for use in any application that supports font selection.
How To Remove Fonts From The Windows Font Folder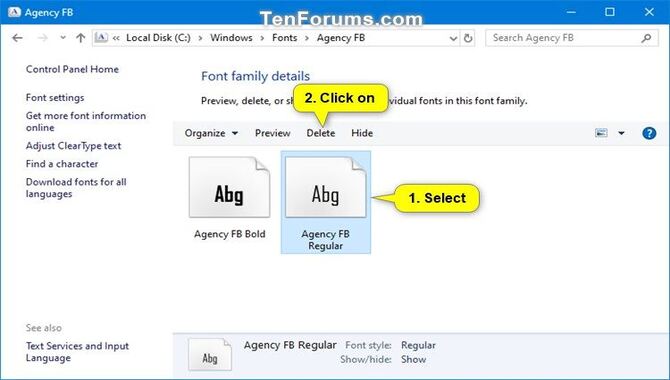 You can easily follow these simple steps to remove fonts from the Windows Font. Begin by accessing the Font Folder on your Windows PC. Navigating to Control Panel > Appearance and Personalization > Fonts can do this.
Once you're in the Font Folder, you'll see a list of installed fonts. To remove a font, simply select its file and either press the Delete key or right-click and choose Delete.
However, exercise caution and only delete fonts you no longer need or use, as removing essential system fonts can cause issues with your computer's performance. Following these steps, you can effectively manage your font collection and ensure that your Windows PC runs smoothly without clutter.
How To Preview Fonts In The Windows Font Folder
The Font Folder in the Windows operating system is the central location where all your installed fonts are stored. Accessing the Control Panel and navigating to the Fonts option lets you find and manage your installed fonts easily.
Double-click it in the Font Folder to get a closer look at a font, and a preview window will pop up. Within this preview window, you can examine the font and better understand how it will look in various applications.
You can also adjust the view options within the Font Folder to see larger previews or access detailed information about each font, including the font family, size, and available styles.
How To Back Up The Windows Font Folder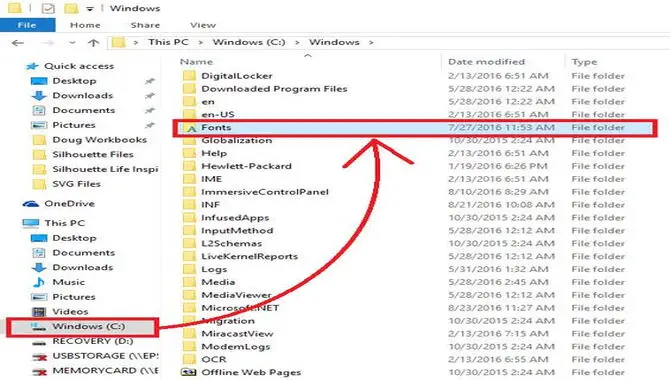 Backing up the Font Folder in Windows is a critical task to ensure the safety of your installed fonts. By creating a backup, you can protect your font collection from system errors or Windows reinstallation. To create a backup, simply copy and paste the entire Font Folder to a different location, such as an external hard drive or cloud storage.
It is important to update the backup regularly, especially after installing new fonts. If you ever need to restore the Font Folder, you can easily copy and paste the backed-up folder into its original location. Safeguard your fonts and have peace of mind knowing that your font collection is secure.
Troubleshooting Font Installation Issues In The Windows Font Folder
Encountering problems while installing fonts in the Windows Font can be frustrating. However, there are ways to troubleshoot and resolve these issues easily. Firstly, check the integrity of the font file. A corrupt or damaged font file can lead to installation errors.
Secondly, ensure you have administrative privileges on your Windows PC to add or install fonts. A lack of administrative rights can hinder the font installation process. If the problem persists, try restarting your computer and proceed with the font installation. A simple reboot can often resolve font installation issues.
Conclusion
The Windows Font is a crucial component of the operating system that allows users to manage and install fonts for use in various applications. It provides a centralized location where users can easily access and organize their font files.
By properly utilizing the Windows Font, users can ensure they have the necessary fonts for design projects, presentations, or any other application requiring typography. Additionally, it is important to periodically review and clean up the Font folder to remove any unnecessary or outdated fonts.
This can help improve system performance and prevent conflicts between different font versions. Understanding how to navigate and utilize the Windows Font folder effectively can greatly enhance the user experience and streamline font management on a Windows computer.
Frequently Asked Questions
1.What Is A Windows Font Folder?
Ans: The Windows Font is a storage location on your computer where all the fonts you have installed are kept. It can be found in the Windows directory and accessed through the Control Panel or File Explorer. The Font Folder allows you to view, install, uninstall, and organize fonts into subfolders for better organization.
2.Is There Any Difference Between The Regular Font Folder And The Advanced Font Folder?
Ans: Yes, there is a distinction between the regular font folder and the advanced font folder. The regular folder includes default fonts on your system, while the advanced folder enables you to add or manage fonts. In the advanced folder, you can access detailed info about each font and arrange them into groups for better organization.
3.Where Can I Find The Windows Font Folder On My Computer?
Ans: You can locate the Windows font  in the Control Panel by searching for "Fonts" or "Font Settings." Alternatively, you can navigate to C:\Windows\Fonts in File Explorer. Once opened, you can access all the installed fonts on your computer.
4.How Do I Install New Fonts Into The Windows Font Folder?
Ans: First, download the font file from a trusted source or reputable provider to install new fonts in the Windows font. If it's compressed, extract it. Then, right-click on the font file and choose "Install" from the menu. The font will add to the Windows Font and be ready for application use.
5.Can I Delete Fonts From The Windows Font Folder Without Causing Any Issues?
Ans: It is generally advised against deleting fonts from the Windows font as some are essential for properly functioning the operating system and applications. Deleting fonts can lead to display issues and hinder the performance of certain programs. Instead, consider disabling unnecessary fonts to avoid any potential problems.