People know cursive fonts for their beautiful, flowing strokes that mimic handwriting. They can add a personal touch to any design, whether a logo, invitation, or website.
Various types of cursive fonts are available, each with its unique style and flair. We will delve into everything you need to know about what is the cursive font. We'll discuss what a cursive font is and why it's so popular among designers. Additionally, we'll provide you with a curated list of the best cursive fonts in 2023, complete with examples and descriptions. So get ready to elevate your designs with the timeless beauty of cursive fonts.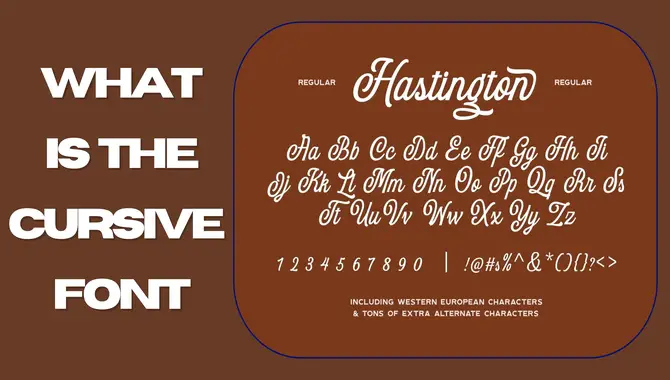 Discussion On What Is The Cursive Font?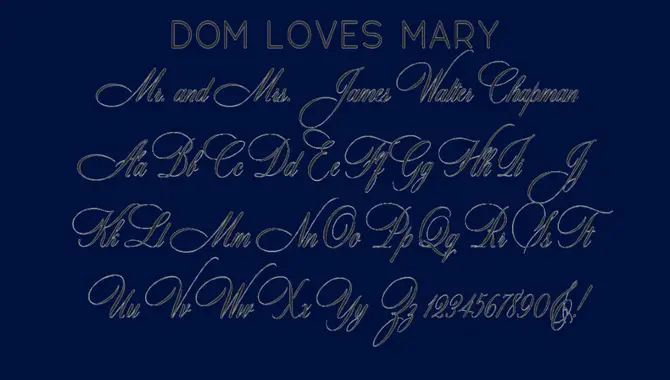 What is the cursive font? Cursive font is a type of handwriting style that imitates the smooth and interconnected strokes of cursive writing. People commonly use it for decorative purposes, invitations, and personalization. There are different styles of cursive fonts, such as script, calligraphy, and handwritten, which can add a touch of elegance and sophistication to your designs or documents.
Cursive fonts can be used in various design projects, such as invitations, logos, and signage, to add a touch of personality and flair. Schools commonly teach them to develop fine motor skills and improve handwriting. With the rise of digital technology, cursive fonts have become increasingly popular in digital design, allowing users to replicate the look of handwritten text without the need for pen and paper.
The Best Cursive Fonts Of 2023
The beauty and elegance of cursive fonts are unparalleled in design and typography. Every occasion has a cursive font, with options ranging from brush script to calligraphy. From creating stunning logos to designing eye-catching wedding invitations, cursive fonts offer a wide range of versatility.
When choosing the right cursive font for your project, it is important to consider factors such as legibility, versatility, and the overall vibe you want to convey. Here are some recommendations:
1.Dancing Script
Dancing Script is a widely celebrated cursive font known for its graceful and fluid letterforms. This font evokes a whimsical and playful aura, making it perfect for projects requiring creativity or a feminine vibe. With its various weights and styles, Dancing Script offers versatility in design, making it a great choice for invitations, logos, and branding materials.
Whether you want to add elegance and sophistication to your designs or inject a personal touch into your projects, Dancing Script is a fantastic cursive font option. You can download it for free or find it on various font websites.
2.Allura
Allura is a versatile cursive font renowned for its elegant and flowing letterforms. It is widely used for artistic and decorative purposes, including invitations, logos, and signage. With its classic and timeless feel, Allura seamlessly fits traditional and modern designs.
This elegant font is available for free download, making it a great choice for personal and commercial projects. Incorporating Allura in your designs adds a touch of sophistication and a personal touch. It allows you to create stunning visuals with its graceful brush strokes and ligatures. Explore the world of Allura, the perfect cursive font option for anyone looking to elevate their designs.
3.Tangerine
Tangerine is a widely popular cursive font known for its elegance and readability. This script font beautifully captures the essence of handwriting with its flowing and connected letters. It is a great choice for invitations, logos, and branding, adding an elegant touch to any design.
With its versatility and customizable options, Tangerine allows you to achieve the perfect vibe for your projects. Download this cursive font online, install it on your preferred design software, and let the brush strokes of Tangerine bring your creations to life. Embrace the personal touch of cursive handwriting with this exquisite font option.
4.Cookie
Cookie is a popular cursive font that adds an elegant and playful vibe to any design. With its decorative swirls and loops, Cookie is perfect for invitations, greeting cards, and other projects where a touch of sophistication is needed. Its versatility makes it a great choice for both personal and professional use. You can easily download Cookie and explore its various weights and styles to find the right font for your project. This charming cursive font option adds a personal touch and brings your designs to life.
5.Herr Von Muellerhoff
Herr Von Muellerhoff is a popular cursive font that embodies elegance and vintage-inspired design. With its sweeping strokes and elaborate flourishes, this font adds sophistication to any project. Whether formal invitations, branding, or wedding invitations, Herr Von Muellerhoff exudes old-world charm.
When choosing a cursive font, selecting one that complements your desired aesthetic and effectively conveys your message is important. Incorporating the right font, such as Herr Von Muellerhoff, adds a personal touch and enhances the overall vibe of your design.
6.Precious
With its slim strokes and looping curves, Precious brings a sophisticated vibe to any design project. Precious is the right font for the job, whether you're creating wedding invitations, formal documents or want to add a touch of class to your designs.
Its legible and easy-to-read style makes it perfect for smaller sizes and screens. Embrace the elegance of Precious and give your designs a personal touch. Download Precious, a cursive font option that will elevate your projects.
7.Scribble
Scribble, a popular cursive font option, brings an artistic and personal touch to your designs. With its flowing and connected letters, this font adds a playful and whimsical vibe to any creative project or invitation. It effortlessly stands out and grabs attention, making it a great choice for those looking to add a unique charm to their work.
The right font can truly elevate your designs and Scribble does just that, providing a personal touch and a sense of sophistication. Add a touch of character to your designs with Scribble's brush strokes and captivating cursive text.
Conclusion
Cursive fonts add a touch of elegance and sophistication to any design or project. Whether you're creating wedding invitations or branding materials or simply want to add a unique flair to your website, there are plenty of beautiful cursive fonts to choose from.
From the flowing curves of Dancing Script to the playful strokes of Cookie, each font brings its personality and style. Now you know what is the cursive font. So, start exploring these stunning cursive fonts and elevate your design game today.
Frequently Asked Questions
1.What Is The Cursive Font Called?
Ans: The cursive font is often called "script" or "handwriting" font. Popular examples include Brush Script, Pacifico, and Lobster. Cursive fonts imitate the look of handwritten letters with connected and flowing characters. The cursive font choice can greatly influence the design or text's overall aesthetic and feel.
2.What Are The Cursive Fonts In Adobe?
Ans: Adobe provides a range of cursive fonts that are popular among designers and creatives. Some notable options include Brush Script, Edwardian Script, and Bickham Script. These fonts can bring a touch of elegance and style to your designs or projects. Feel free to experiment with different cursive fonts in Adobe to discover the perfect fit for your needs.
3.What Is The Difference Between Cursive And Script Font?
Ans: Cursive and script fonts are similar but have slight distinctions. Cursive fonts have more fluid and connected letters, while script fonts imitate handwriting with varying levels of connectedness. Both can bring elegance and a personal feel to designs.
4.What Is The Name Of The Swirly Font?
Ans: The swirly font is commonly known as a "script" or "handwriting" font. Examples include Brush Script, Edwardian Script, and Lucida Handwriting. These fonts are appreciated for their decorative and elegant look, which can bring sophistication and personalization to different design projects.
5.How Do I Write In The Cursive Font Style In Word?
Ans: Select the desired text and navigate to the Font menu to write in cursive font style in Word. Choose a built-in cursive font like "Script" or "Cursive," such as "Arial Narrow" or "Lucida Handwriting." Alternatively, download additional cursive fonts from reputable websites and install them on your computer for more font options.