The United States Military has a rich and storied history, from its inception in 1775 to the present day. Throughout this history, the military has utilized numerous fonts in its communications, ranging from official documents to propaganda posters.
These fonts have played a critical role in conveying the military's message to its troops and the public. Regarding military fonts, there are a few key factors to consider legibility, professionalism, and an overall sense of authority.
Whether you're working on a military-themed project or simply want to add a touch of ruggedness to your designs, having the right font is essential. we'll explore some of the best US military fonts available today.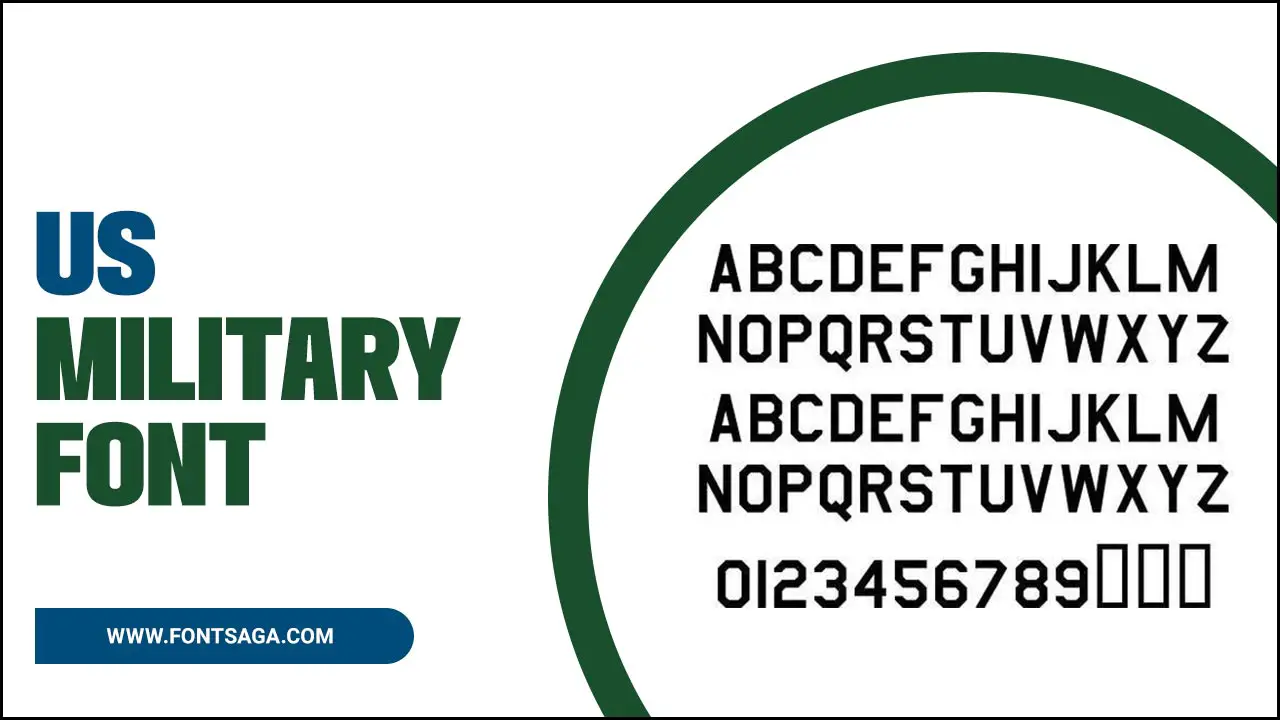 The 10 Best Us Military Fonts
The US military font is known for its strong branding and communication font. Discover the secrets of the top 10 best military fonts used by the military, including stencil, serif, and vintage typefaces. These fonts can download for use in various design projects, such as logo design, book covers, and packaging. Explore these fonts' different styles and characteristics to find the best option for your military-inspired visuals.
1. Poligon – Military Font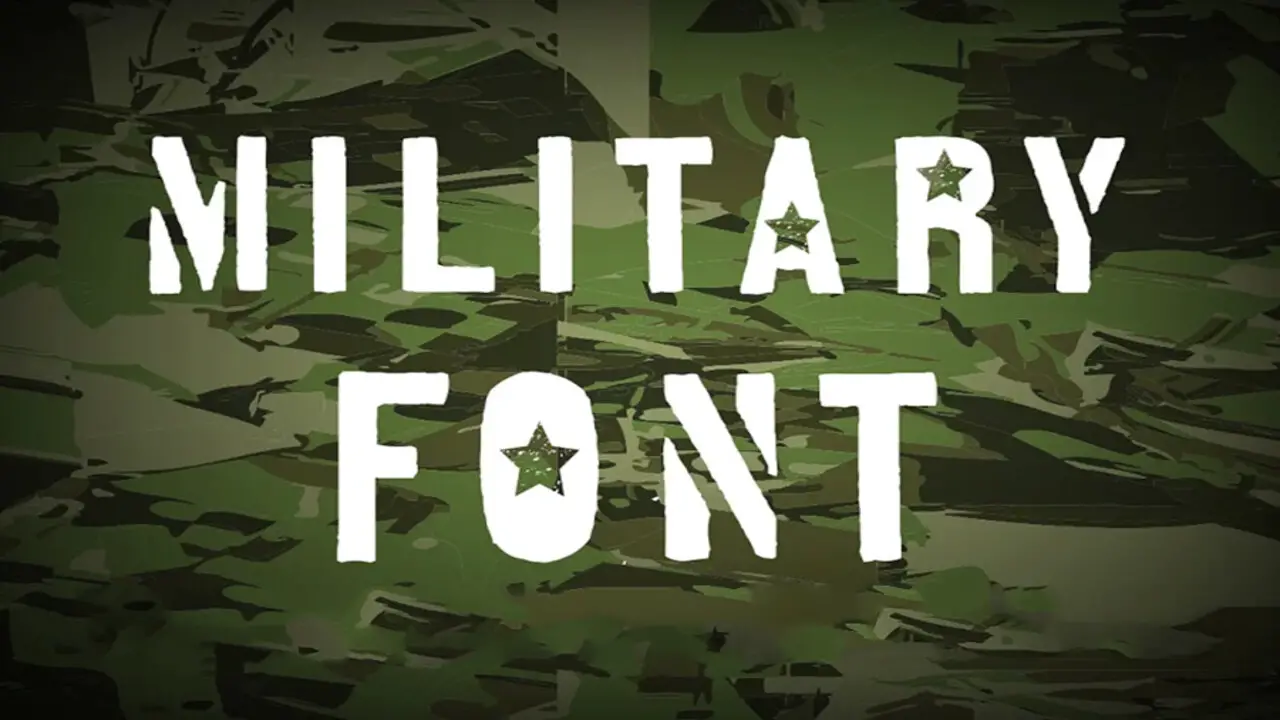 Polygon, a bold and rugged stencil font with sharp angles and strong lines, epitomizes power and authority. This military-style font is perfect for military-related designs such as logos, posters, and websites.
Its versatility allows it to use for both display text and body text, making it a great choice for various projects. Whether you're working on vintage-style illustrations, logo designs, or packaging, Poligon is a reliable and impactful font. Enhance your creations with this military-inspired typeface, available for download.
2. Chaser
Chaser is a commanding military-style font that draws inspiration from stenciled lettering found on military vehicles and equipment. Its bold and rugged appearance, featuring sharp angles and straight lines, makes it an excellent choice for military-themed designs.
This versatile font offers uppercase and lowercase options, providing design flexibility for a wide range of projects. Incorporating Chaser into your designs will add a touch of strength and professionalism, making it a great addition to your font collection.
3. The Old Navy
The Old Navy font, a vintage and military-style serif font, is a great choice for military-themed designs. This classic font, often associated with the United States Navy, evokes a sense of tradition and patriotism. With its bold and commanding presence, it adds a touch of military style to logos, posters, and advertisements.
Whether you're designing book covers, creating illustrations, or crafting T-shirts, The Old Navy font is a great option. You can download it for free and use it in Microsoft Word, Photoshop, or any other design software. Its timeless appeal and versatile nature make it a popular choice among designers.
4. Portway
Various branches of the US military widely use Portway, a military font.  Known for its bold and strong aesthetic, Portway exudes a sense of authority and professionalism. With its clean lines and sharp edges, this font is perfect for creating impactful designs that capture the essence of the military.
Whether you're designing a logo, creating signage, or developing promotional materials, Portway can help you convey a sense of strength and discipline that is synonymous with the US military.
5. Deltory
Deltory – Military Font is a robust typeface that takes inspiration from the lettering found on military aircraft. With its bold, blocky letters, Deltory exudes strength and power, making it a perfect fit for military-themed designs, including logos, posters, and apparel.
This military font is easily readable and commands attention with its rugged and authoritative look. It widely uses to evoke a sense of military style and can download for personal or commercial projects. Deltory is a great addition to any design project seeking a bold and powerful military font.
6. Airborne 86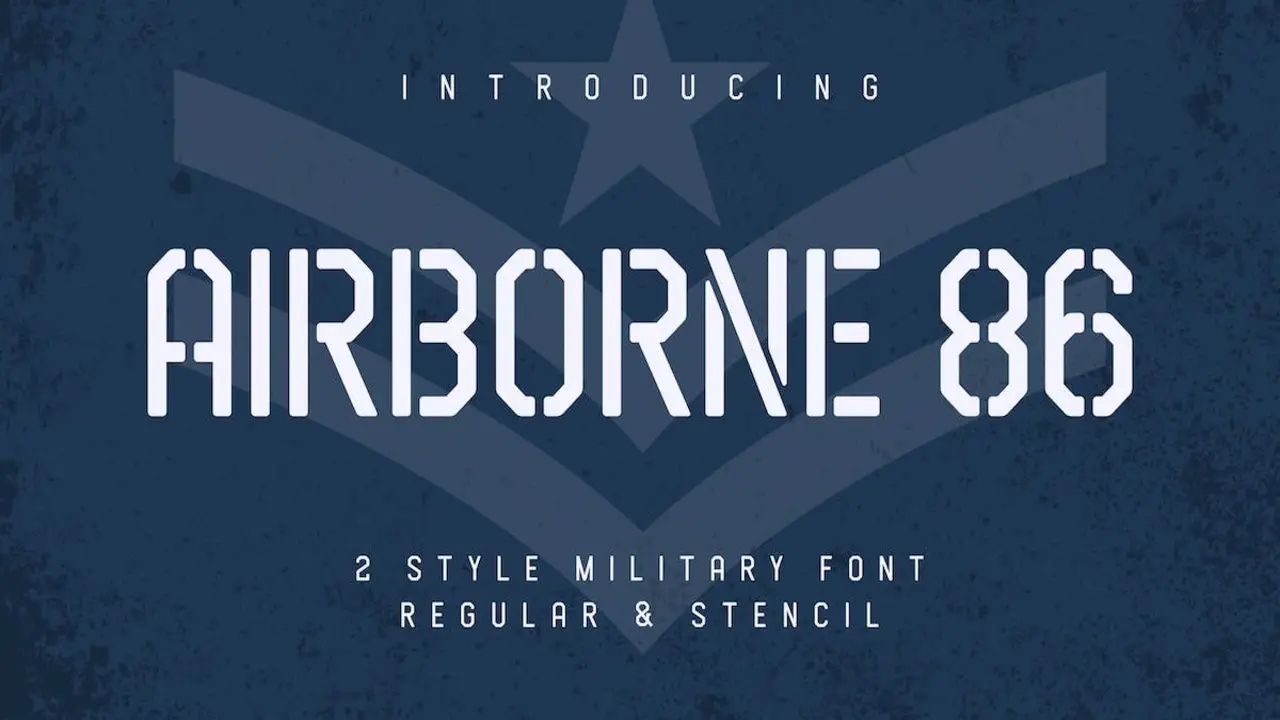 Airborne 86 – Military Font embodies the bold and rugged essence of the US military. This typeface features strong, angular letterforms and a distressed appearance, giving it an authentic and vintage feel.
It is ideal for military-themed design projects like posters, logos, and apparel, infusing them with a strong sense of strength and discipline. Airborne 86 is available in various weights and styles, enabling users to customize and adapt it to their design needs. Immerse yourself in the spirit of the military with this incredible font.
7. Reloaded – Military Serif Font
With its bold lines and sharp angles, Reloaded is a powerful military serif font that captures the essence of the U.S. military. Its rugged and commanding appearance makes it perfect for military-themed designs, including logos, posters, and visual materials.
Whether you're working on a project for the army, navy, or air force, Reloaded is a great choice that evokes a sense of strength and discipline. This versatile font also offers multiple weights and styles, allowing you to create different looks and add a touch of vintage flair.
Plus, you can easily download Reloaded and use it in both personal and commercial projects. So why wait? Explore the possibilities of this amazing military serif font and bring your designs to life.
8. Headcorps – Military Serif Font
Headcorps is a versatile serif font that captures the strength and authority of the military. With bold letterforms and sharp edges, it's perfect for military-themed designs, logos, and apparel. Its rugged appearance and professional vibe make it a great choice for conveying discipline and authenticity. The Headcorps font can download for both personal and commercial projects, adding an authentic touch to your military-inspired designs.
9. Maztech Military Technology Font
An excellent choice for military-inspired designs, Maztech Military Technology Font is a popular option for US military-themed projects. With bold and blocky lettering reminiscent of military stencils, this font adds a touch of vintage authenticity to your designs. Whether you're creating posters, logos, or illustrations, Maztech Military Technology Font is a great addition to your font collection. Download it now for use in your military-themed designs.
10. Lordcorps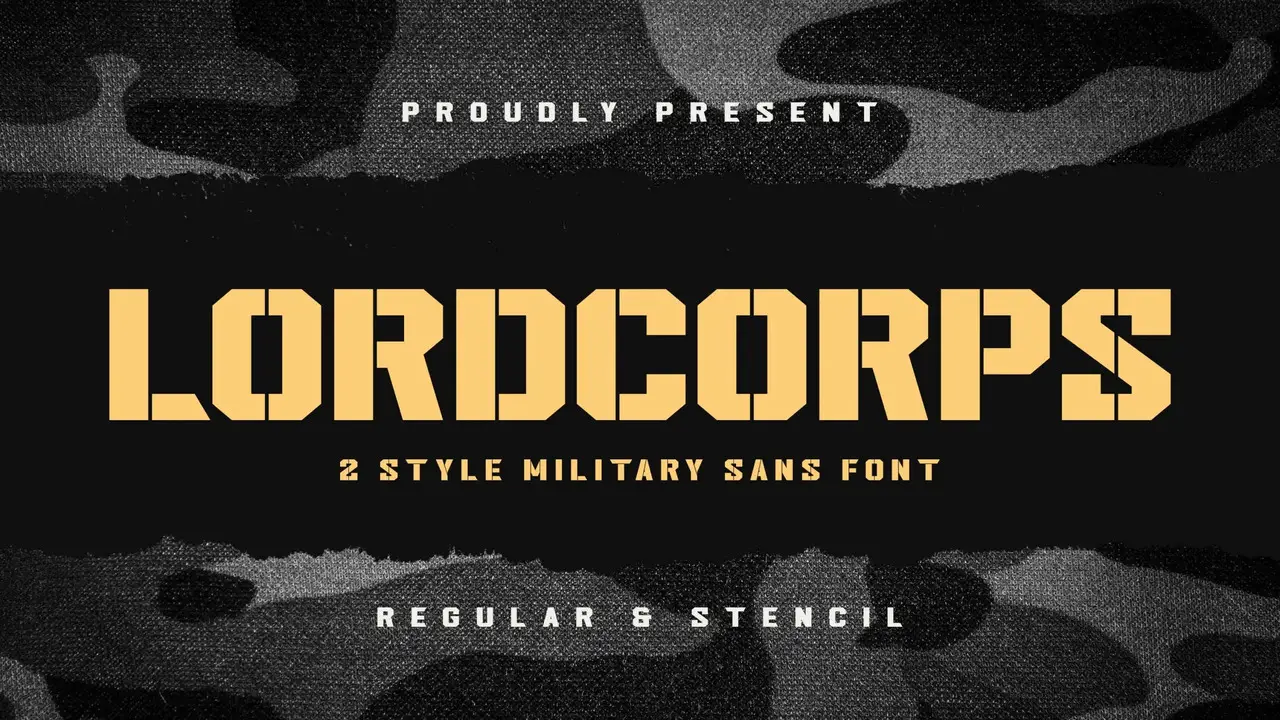 Popular in military-inspired designs, Lordcorps is a commanding font choice. Its bold lettering captures attention and exudes authority, making it perfect for military-themed projects. From logos to posters, this font adds a strong touch of power. Lordcorps, along with other notable military fonts like Stencil, Impact, and Army Wide, offers a variety of styles and options. It can download for free from multiple font websites.
Conclusion
Choosing the right font for any military-related project is crucial to conveying the appropriate tone and message. The best us military fonts are those that are clear, bold, and easily recognizable while still maintaining a professional and authoritative aesthetic.
Whether you're designing a logo for a military unit, creating a presentation for a government agency, or crafting a website for a defence contractor, using one of the top military fonts we've discussed will help you achieve the impact and respect that the military demands. Remember, when it comes to military design, choosing the right font is not just a matter of aesthetics but of conveying a sense of duty, honor, and courage.
Frequently Asked Questions
1.What Font Does The US Military Use?
Ans: The US military typically uses the serif font "Hercules" for official documents, as it is designed to be clear and legible. However, other fonts like Arial and Times New Roman may also use for different purposes. It's worth mentioning that the specific branch or department of the military may have slight variations in font choice.
2.What Font Is Used On Military Ids?
Ans: The font commonly used on military IDs is "OCR-A" or "OCR-B." These fonts are specifically designed for optical character recognition (OCR), ensuring accurate and efficient reading of ID information. They are also widely used in other applications that require machine-readable text, such as barcodes and banking documents.
3.What Font Is The US Marines?
Ans: The US Marines use a font called "Globe Gothic." It's a bold, clean sans-serif typeface designed specifically for the Marine Corps. This font is highly legible and recognizable, and it's commonly used in official logos, signage, and branding materials of the US Marine Corps.
4.What Is The Military Font On Google?
Ans: Google calls the military font "Roboto Condensed."  It's a versatile and modern font with a clean and streamlined appearance, making it suitable for digital and print materials. If you want to use this font in your designs, you can download it free from Google Fonts.
5.What Are Some Of The Most Commonly Used Fonts In US Military Documents?
Ans: Arial, Times New Roman, and Calibri are among the frequently used fonts in US military documents. Arial is favoured for headings and body text due to its simplicity. Times New Roman, a classic serif font, is widely used for official correspondence. Calibri, a modern sans-serif font, has gained popularity for its clean and professional appearance.