Font names are the unique names given to different typefaces, such as Arial or Times New Roman. They provide information about a font's style and characteristics, and using the correct name is crucial for maintaining consistency in branding and design.
Fonts are everywhere, from books to billboards. They add character to a website and communicate messages without words. But with so many different font names, how do you choose the right one for your project? Here we'll explore the top 5 font names every designer should know.
From Georgia to Garamond, we'll take a deep dive into each font's history, characteristics, and best practices for usage. So sit back, grab a coffee, and explore the art of choosing fonts.
Top 5 Font Names To Know
Choosing the right font name is crucial for consistency in branding and design. Several options include popular choices like Helvetica and Times New Roman. Other options like Garamond offer an elegant serif look commonly used in book publishing.
Arial is a versatile sans-serif option similar to Helvetica, while Comic Sans offers a playful and informal look. You can choose the perfect typeface for your project by understanding these top font names. Here are the top 5 font names to know.
1.Georgia
This elegant serif font, created specifically for computer screens by designer Matthew Carter, boasts a timeless appeal and unmatched legibility. Its versatile nature makes it perfect for print and digital projects, while its unique style allows it to be paired with other fonts to create a contrast. Georgia is one of the safest web fonts, making it perfect for online marketing materials.
2.Times New Roman
As a classic serif font that has existed since the 1930s, Times New Roman is widely used in academic writing and professional documents in print and digital formats. Although some designers consider it overused and outdated, it remains one of the most recognizable fonts. Its formal and traditional look makes it a safe choice for resumes but may not be suitable for more creative projects.
3.Palatino
With its elegant curves and open counter spaces, Palatino is a classic serif font designed by Hermann Zapf in the 1940s. Popular in book and magazine design as well as branding and advertising, this versatile typeface adds a touch of sophistication to any project. Used widely across print and digital applications alike, Palatino remains a top choice for designers seeking timeless style.
4.Baskerville
Baskerville is an elegant serif font that can make your design stand out. With its high contrast between thick and thin strokes, this versatile font is perfect for formal documents like invitations and certificates and branding and marketing materials. Whether you're looking for an elegant serif font or one versatile enough to use across all your projects, Baskerville is worth considering.
5.Garamond
With its timeless elegance and classic look, Garamond has been a popular serif font since the 16th century. Widely used in print materials like books, newspapers, and magazines, it's also versatile enough to be used for both body text and headlines.
However, using it in small sizes or on screens can affect its readability due to its various variations. People commonly use Arial and Verdana as sans-serif fonts on web pages, while Baskerville and Palatino are other elegant serif fonts.
The Impact Of Browser Compatibility On Font Names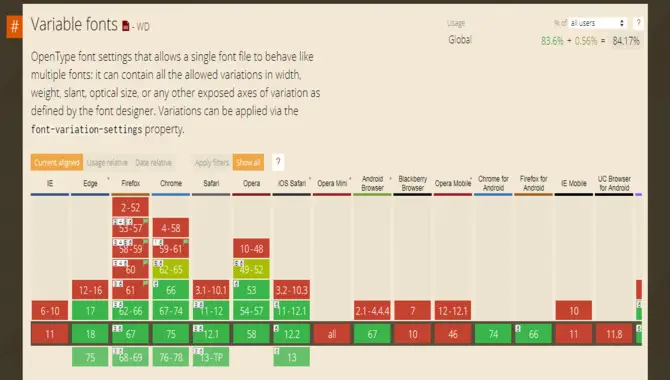 Choosing the right font name is crucial in web design and online marketing. When selecting a font for your website or marketing materials, consider browser compatibility, as not all browsers and devices support not all fonts. Choosing the right size and spacing will also positively impact readability and user experience. Custom fonts can add uniqueness to your brand, which may require additional technical considerations.
HTML Font Tags
When you specify font family, size, color, or style on a webpage through HTML, you should use CSS stylesheets instead of deprecated font tags. While choosing fonts compatible with multiple browsers, it's important to consider readability and overall aesthetic. Arial, Times New Roman, Helvetica, Georgia, and Verdana are widely compatible fonts.
CSS Font Families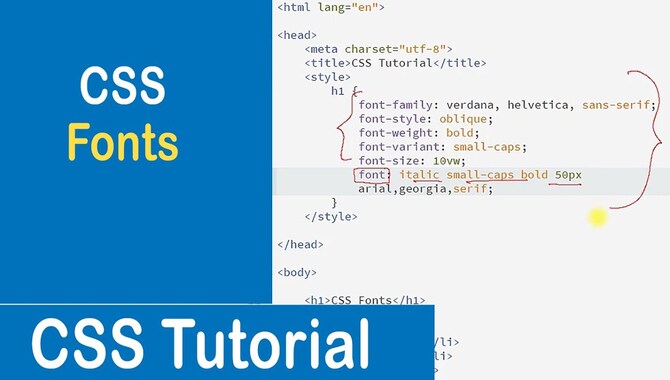 CSS font families are a popular choice for website designers who want to ensure their content is readable across multiple devices and browsers. Web designers can ensure that their content will be displayed correctly by specifying a list of fonts for the browser if the first font is unavailable on a user's device.
Popular CSS font families include Arial, Helvetica, Times New Roman, and Georgia. Choosing compatible fonts wisely is important, as browsers may interpret fonts differently.
How Fonts Are Used In Web Design And Online Marketing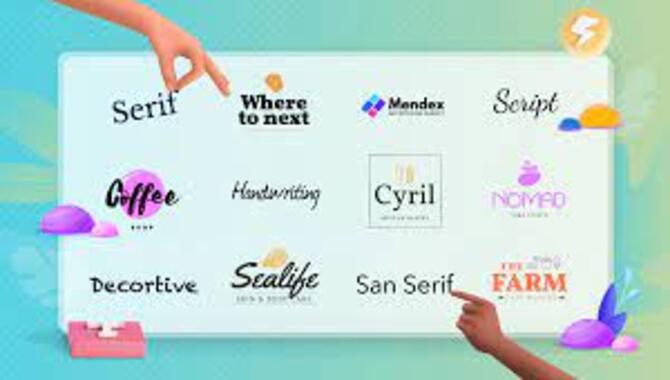 Fonts play a crucial role in web design as they can significantly impact the overall user experience of a website. They not only convey a brand's personality and tone but also enhance the readability of the content and guide users through it. Choosing appropriate fonts for different types of content is essential as it helps maintain consistency across the website or marketing materials for better brand recognition.
The Importance Of Unicode In Font Naming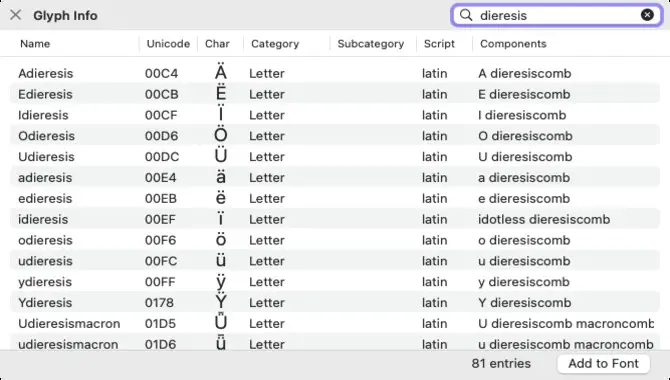 Font naming is crucial in typography, ensuring consistency across platforms and devices through Unicode standards. Serif and sans-serif fonts have distinct characteristics, while script and display fonts can add personality to designs.
When choosing fonts for commercial projects, you should properly consider licensing. Secondary key terms used: typography, Unicode standards, distinct characteristics, proper consideration, and licensing.
Popular Font Names On Mac And Ios Devices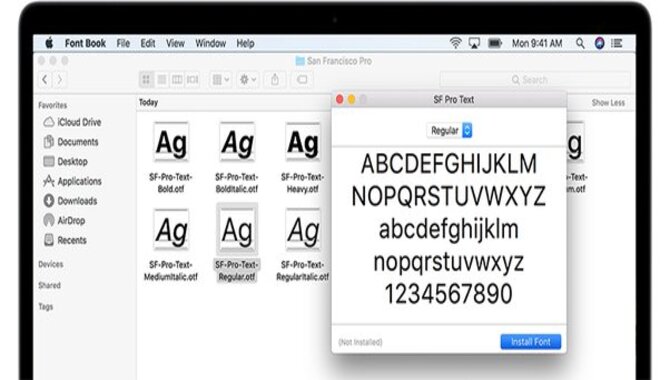 Mac and iOS devices offer several popular fonts. Sans-serif Helvetica is timeless and easy to read; versatile Arial is similar to it. Classic serif Times New Roman finds use in professional settings, while Georgia's serif style offers clear reading on digital screens. Geometric sans-serif Futura works for modern designs. Adding variety with different typefaces like elegant serif Baskerville or decorative Rockwell makes web pages stand out.
Monaco
Monaco offers better clarity and ease of use in coding and programming applications. This clean and simple monospaced font looks fantastic on smaller screens, making it a popular choice for mobile devices. Although it may not be the most decorative font, Monaco's practicality, and versatility make it a favorite among designers and developers looking for something different from generic fonts like Arial or Times New Roman.
Times
Print media has extensively utilized serif fonts like Times for years due to their professional appearance and readability. Although a safe choice for some contexts, Times may not be appropriate for more modern or creative designs. Choosing from popular alternatives like Verdana, Courier or Helvetica can add new dimensions to your web page's look and feel.
Avenir
Adrian Frutiger designed Avenir, a versatile font popular among graphic designers and typographers in 1988. With its clean and modern look, this elegant serif font suits various design projects, including websites, logos, print materials, and more.
Available on Mac and iOS devices, Avenir's versatility allows designers to create unique combinations with different weights and styles. You can use Avenir font without violating any privacy policy or copyright laws, making it one of the most recognizable fonts available.
Conclusion
Choosing the right font for your website or marketing material can make all the difference in how your audience receives it. From Georgia to Garamond, each font has its unique style and purpose that can enhance your brand's personality. Understanding how fonts work in web design and online marketing is essential to make an informed decision.
Additionally, knowing the browser compatibility and Unicode standards is crucial when choosing a font name. This blog's top 5 font names can be a great starting point to help you find the perfect font for your needs. Remember that different fonts convey different emotions and messages, so it's important to choose a font that aligns with the overall tone of your project.
Frequently Asked Questions:
1.What Is The Name Of The Font Styles?
Ans. There are various font styles, including serif (with small lines at the end of letters), sans-serif (without these lines and great for digital use), script (resembling handwriting, ideal for invitations or logos), display (attention-grabbing fonts for headlines), and monospace (where each letter occupies the same amount of space).
2.What Are The 5 Common Font Styles?
Ans. There are five common font styles: serif, sans-serif, script, display, and monospace. Serif fonts have small lines at the end of each stroke, while sans-serif does not. Script fonts mimic handwriting, display fonts are eye-catching, and monospaces have equal spacing between characters.
3.What Are Commonly Used Font Names?
Ans. Arial, Times New Roman, Helvetica, Comic Sans, and Calibri are popular fonts. Times New Roman is great for formal writing, while Arial is good for digital media. Script fonts like Brush Script and Edwardian Script are great for creative designs or invitations.
4.What Are Fancy Font Styles?
Ans. Fancy fonts are decorative and ornamental styles like script, calligraphy, and handwritten. They add a unique touch to design projects but must be used sparingly to avoid overwhelming the reader.
5.What Are The Different Types Of Web Fonts?
Ans. There are two types of web fonts: system and custom. System fonts are already installed on devices, while custom fonts require downloads or server loading. Popular services include Google Fonts, Adobe Fonts, and Typekit.