Halloween font refers to a specific type of font that is commonly associated with the Halloween season. It typically features spooky or creepy elements such as dripping letters, jagged edges, or Gothic-inspired designs.
These fonts are often used in Halloween-themed decorations, party invitations, flyers, and other materials to create a sense of fun and excitement. Get ready to add some spooky flair to your Halloween documents! Here we will guide you through the easy steps to add halloween font in word.
Whether creating invitations for a Halloween party or designing spooky flyers, using themed fonts can take your documents to the next level. We'll start by downloading the perfect Halloween fonts and installing them in Word. Let's dive in and make your Halloween creations stand out.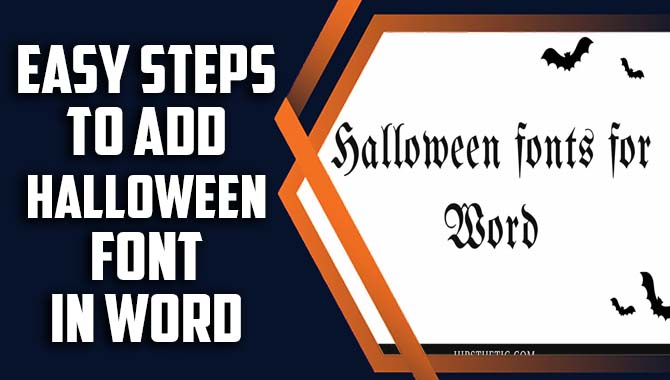 6 Easy Steps To Add Halloween Font In Word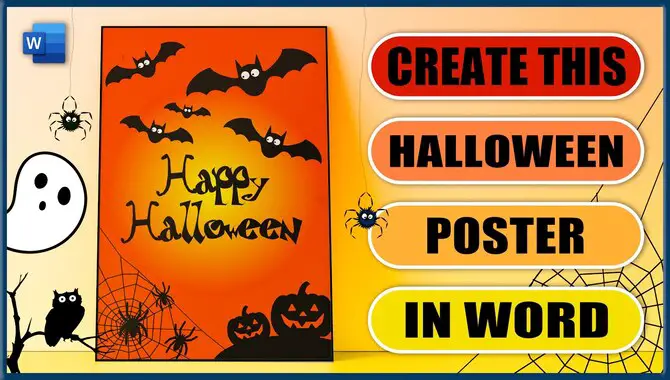 Adding unique and spooky Halloween fonts to your Microsoft Word documents is simpler than you think. Follow these 6 easy steps to bring a touch of Halloween to your typography. Begin by finding reputable websites that offer a wide range of free Halloween fonts for download. After downloading the fonts, extract the font files from the accompanying zip folder. Here are 6 Easy Steps to Add halloween font in word.
1.Download And Install The Halloween Fonts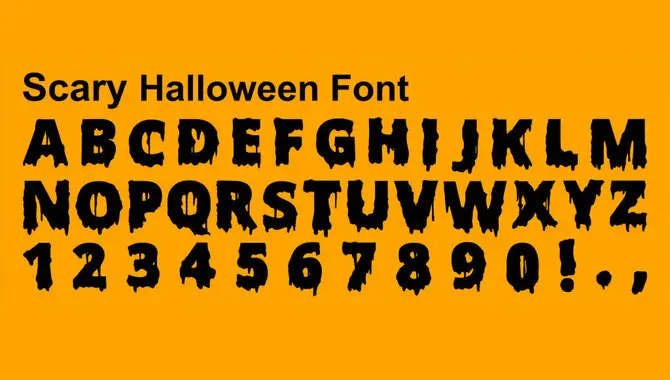 To incorporate some spooky vibes into your documents, follow these easy steps to download and install Halloween fonts in Word. Begin by browsing reputable websites for a wide variety of free Halloween fonts, ranging from creepy and scary to playful and festive. Once you've found the fonts that fit your Halloween theme, download the font files directly to your computer.
Ensure you have saved them in a location that is easily accessible. Next, install the fonts by right-clicking on each font file and selecting the "Install" option. Once the installation is complete, open Microsoft Word or your desired word processing program, and you're ready to unleash the Halloween spirit into your documents.
2.Select The Desired Font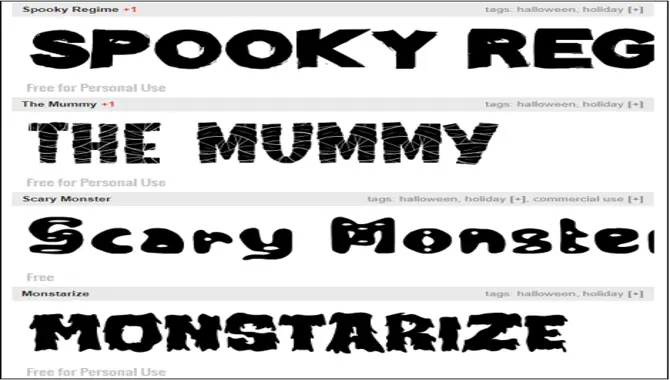 To add spookiness to your Halloween-themed document in Microsoft Word, follow these steps to select the perfect font. Open Microsoft Word and navigate to the "Home" tab. From the font drop-down menu, explore the array of options available.
You might discover Halloween-specific fonts like "Creepsville" or "Gothic Spider" that perfectly capture the theme of your document. If you don't see any Halloween fonts, click on "More Fonts" and type in a Halloween-inspired keyword like "witch" or "pumpkin" to uncover even more options. Take your document to the next level using fonts that evoke the spirit of Halloween.
3.Apply The Font To Your Text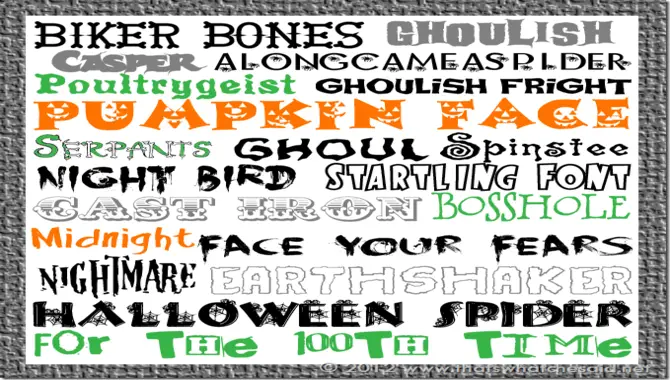 Follow these straightforward steps to incorporate a Halloween font into your Microsoft Word text. Begin by launching Word, opening an existing document, or creating a new one. Then, choose the text you want to modify with a Halloween aesthetic. Navigate to the "Home" tab and locate the small arrow in the "Font" section's bottom right corner.
Access the Font dialog box by clicking the arrow, and within it, select the "Font" tab. Peruse the available font options, searching for any Halloween-related typefaces already installed on your computer. Once you find a suitable Halloween font, click "OK" to apply it to your chosen text promptly.
4.Check Compatibility With Other Programs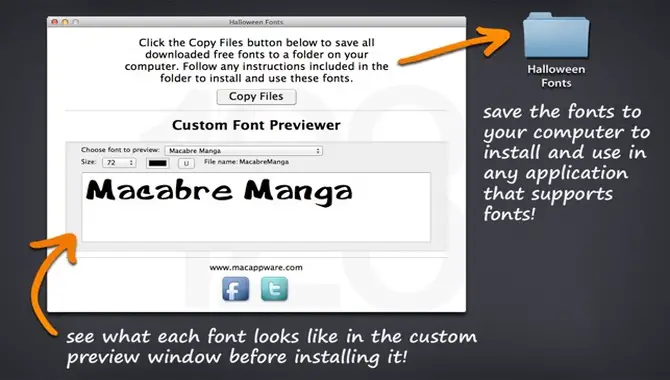 Ensure compatibility with other programs by checking if the Halloween fonts you want to use in Word are compatible. It's important to verify if these fonts will display correctly and not cause formatting issues. Download and install the font on your computer to perform the compatibility check.
Open Word and navigate to the font selection menu to locate the newly installed Halloween font. By confirming its appearance and correct display, you can confidently incorporate it into your Word documents.
5.Adjust Font Size And Spacing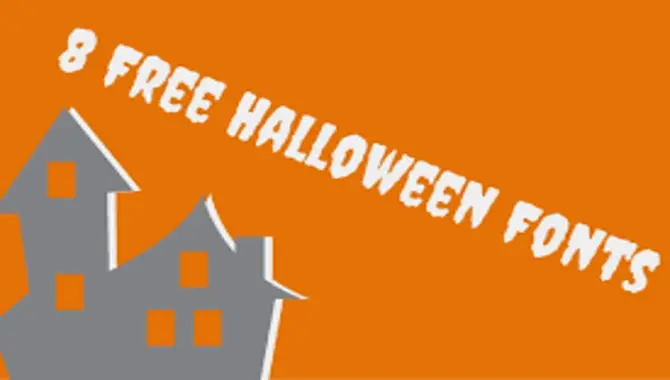 Adjusting the font size and spacing in Microsoft Word is a breeze. Begin by opening a new document or an existing one. On the "Home" tab, simply select a Halloween font from the font selection menu, ensuring that it matches the spooky vibe you're going for.
Once you've made your font selection, easily adjust the size according to your preference. And if you want to take the customization further, play around with the letter spacing to achieve the perfect Halloween typography. With these simple steps, your text will have that extra touch of fright and flair.
6.Save Your Document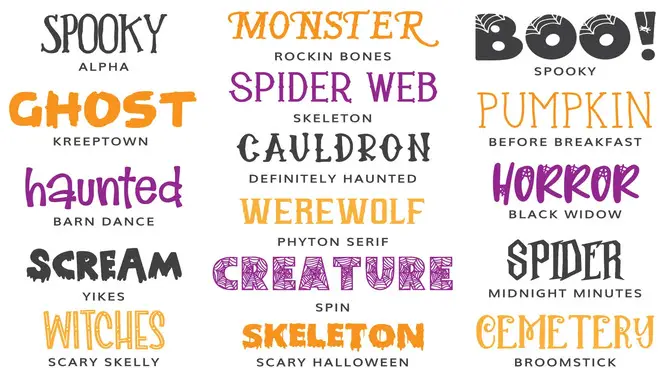 To save your document with the newly added halloween font, follow these simple steps. Start by choosing a Halloween font that suits your style and captures the essence of the holiday, such as a spooky serif or a playful handwritten font. Once you've downloaded the font onto your computer, open Microsoft Word and create a new document or open an existing one.
Navigate to the "Home" tab at the top of the page and click on the small arrow in the bottom right corner of the "Font" section. In the Font window, click the "File" button at the top left corner and locate the Halloween font file you downloaded. Click on the "Install" button to add the font to your computer's font library. When you save your document, the Halloween font will be available for future projects. Enhance your
Conclusion
Halloween font refers to a specific style of typography that is often associated with the Halloween season. It typically features spooky or eerie elements like dripping blood, ghostly figures, or creepy crawlies. Now you can easily add Halloween fonts to your Word documents and give them a spooky touch.
By following these 6 easy steps halloween font in word, you can download, install, and apply Halloween fonts in Word effortlessly. Whether you're creating Halloween-themed invitations, flyers, or party decorations, these fonts will add an extra element of fun to your designs. So why wait? Start adding some Halloween magic to your documents today! Save your Halloween-inspired creations and share them with your friends and family.
Frequently Asked Questions
1.What Is A Good Halloween Font For Word?
Ans: When choosing a Halloween font for Word, popular options like "Chiller," "Bleeding Cowboys," and "Creepster" can create a spooky atmosphere. Fonts such as "Monsterama" and "Ghoul" are also great choices.
2.Is There A Halloween Font Word
Ans: Yes, Microsoft Word does provide a range of fonts specifically designed for Halloween. Simply go to the "Fonts" dropdown menu and search for options like "Halloween," "Spooky," or "Creepy." If you can't find any Halloween fonts in your Word program, you can download them from trusted font websites and install them on your computer.
3.What Are Some Spooky Fonts In Word?
Ans: You can find spooky fonts in Word, such as Chiller, Haunted House, Blackadder ITC, and Creepster. These fonts have a Halloween-inspired design that adds a creepy touch to your documents.
4.Are You Looking For A Cute Handrawn Font For Children And Halloween Event?
Ans: Yes, there are numerous adorable hand-drawn fonts perfect for Halloween events and children's designs. Popular choices like "Spooky Kids," "Witchy Poo," and "Creepy Crawly" can infuse a playful and fun vibe into your Halloween-themed documents or designs.
5.How Do I Add Fonts In Word?
Ans: To add fonts in Word, go to the "Home" tab and click on the arrow in the "Font" section. In the Font dialog box, click "Add," browse for the font file on your computer, select it, and click "OK" to install it in Word.