Gotham Font has taken the design world by storm. This sans-serif font family has become a staple in modern typography, created by type designer Tobias Frere-Jones in 2000 for the Wall Street Journal.
Countless branding campaigns, advertisements, and publications have used it. It has even made its way into popular culture, appearing in the opening credits of the hit television show, "The Daily Show with Jon Stewart." The clean, modern lines of Gotham Font make it a perfect choice for logos, headlines, and other design elements where clarity and sophistication are paramount.
Here, we'll take a closer look at the history and evolution of Gotham Font, including its unique design features and how it has been used in various industries. and how to install Gotham font in 5 steps.
5 Steps To Install The Gotham Font
Gotham Font is necessary due to its versatility and clean design, making it suitable for various applications. It conveys a modern and professional aesthetic, enhancing visual appeal and readability. Its widespread branding, advertising, and publications use to contribute to a consistent visual identity. Font Gotham has become a popular choice in contemporary design.
1. Obtain The Gotham Font Files:
To install the Gotham font, you must have the font files. These files usually come with a font license when you purchase them. You can acquire these font files from reputable font foundries or licensed distributors.
2. Unzip The Font Files:
Unzip the Gotham font files; locate the downloaded zip file on your computer. Right-click on the zip file and select "Extract" or "Extract All" from the menu. Choose a destination folder to extract the font files. Once extracted, you can install the Gotham font on your system.
3. Open The Font Settings:
Click the Start button on Windows, type "Fonts," and select the "Fonts" option from the search results. On macOS, go to the "Finder" and navigate to "Applications" > "Font Book." This will open the font management settings on your respective operating system.
4. Install The Gotham Font: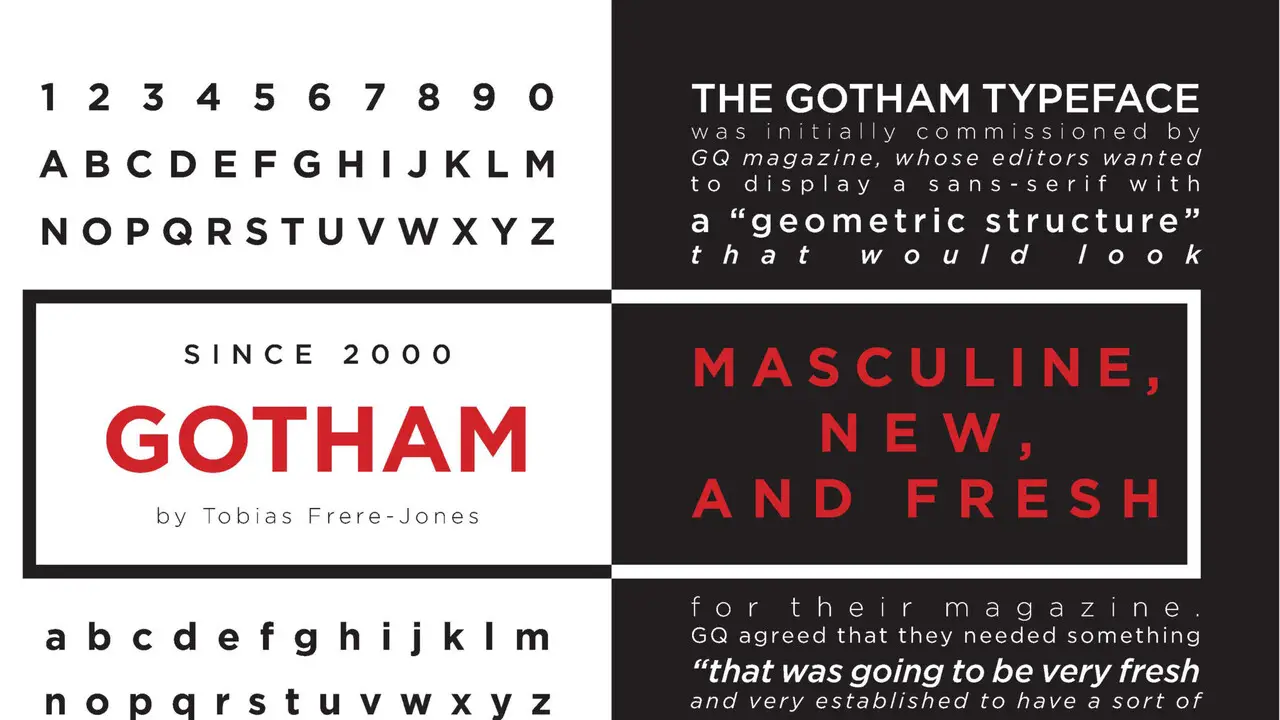 In the font management settings, locate the folder where you extracted the Gotham font files. Drag and drop the font files into the font management window. Alternatively, you can right-click on the font files and choose the "Install Font" option.
5. Verify Installation:
After installing the Gotham font, you can verify its presence by opening a text editor or a word processing application. Look for the Gotham font in the font selection menu and use it to type a sample text. The font installation succeeds if you see and use the Gotham font correctly.
Pairing Gotham Font With Other Fonts
Pairing Gotham Font with other fonts can create a unique and eye-catching design. Gotham is a popular geometric sans-serif font that is often used in branding and advertising. It has a clean and modern look that can be paired with various serif and script fonts to create a harmonious balance.
When pairing fonts, it's essential to consider factors such as contrast, hierarchy, and readability. For example, pairing Gotham with a thin and delicate script font can create a nice contrast, while pairing it with a bold serif font can provide a hierarchy of information. When choosing fonts to pair with Gotham, it's essential to consider the overall message and tone of the design.
Best Practices For Using Gotham Font
The Gotham font is one of the most popular typefaces out there. It's a versatile and modern font that can be used in various ways. However, if you want to make the most out of using Gotham, remember a few best practices. First and foremost, choosing the right weight and size for your design is essential.
Gotham comes in various weights, from light to bold, and choosing the right weight can make a big difference in your design's overall look and feel. Another critical best practice is to avoid overusing Gotham. It's a popular font, but using it too much can make your design feel generic or overused. Finally, pairing Gotham with complementary fonts can elevate your design and make it more cohesive.
Conclusion
Installing the Gotham font is a straightforward process that anyone can do with basic computer skills. The font's clean; modern style has made it a popular choice for many designers and creatives. Following the steps outlined here, you can easily add this font to your computer and start using it in your projects. With its versatility and professional look, this font will be a valuable addition to your library.
FAQ
1.What Is Gotham Font?
Ans: Gotham Font is a typeface designed by Tobias Frere-Jones. It is a widely-used sans-serif font known for its modern, clean, and geometric design.
2.Where Can I Download Gotham Font?
Ans: Unfortunately, Gotham Font is unavailable for free download due to copyright restrictions. However, you can purchase a license from various online font retailers or the designer's website.
3.Can I Use Gotham Font On My Website?
Ans: You can use Gotham Font on your website by embedding the font files using CSS. However, remember that you need the appropriate licensing and permissions to use the font on the web.
4.Is Gotham Font Available For Free?
Ans: No, Gotham Font is not available for free. It is a commercial font that requires purchasing a license for legal use.
5.Can I Share Gotham Font Files With Others?
Ans: You cannot share Gotham Font files with others unless you have the appropriate licensing or permissions. Font files are protected by copyright, and distributing them without authorization violates copyright laws.