As a writer or designer, you may have encountered a situation where you want to use a font that looks like Times New Roman but is slightly bigger.
Perhaps you want to make your document or design look more prominent and readable, or you prefer a slightly bigger font than Times New Roman.
Whatever your reason, you'll be glad to know several font options that fit the bill are available. Here will explore some of the best fonts that look like Times New Roman but are slightly bigger. We'll discuss each font's unique features, pros, and cons and provide examples of how it can used effectively in different contexts.
Whether creating a resume, a printed document, or a website, you'll find a font on this list that meets your needs. It's worth noting that choosing the right font can make a significant difference in how your content is perceived.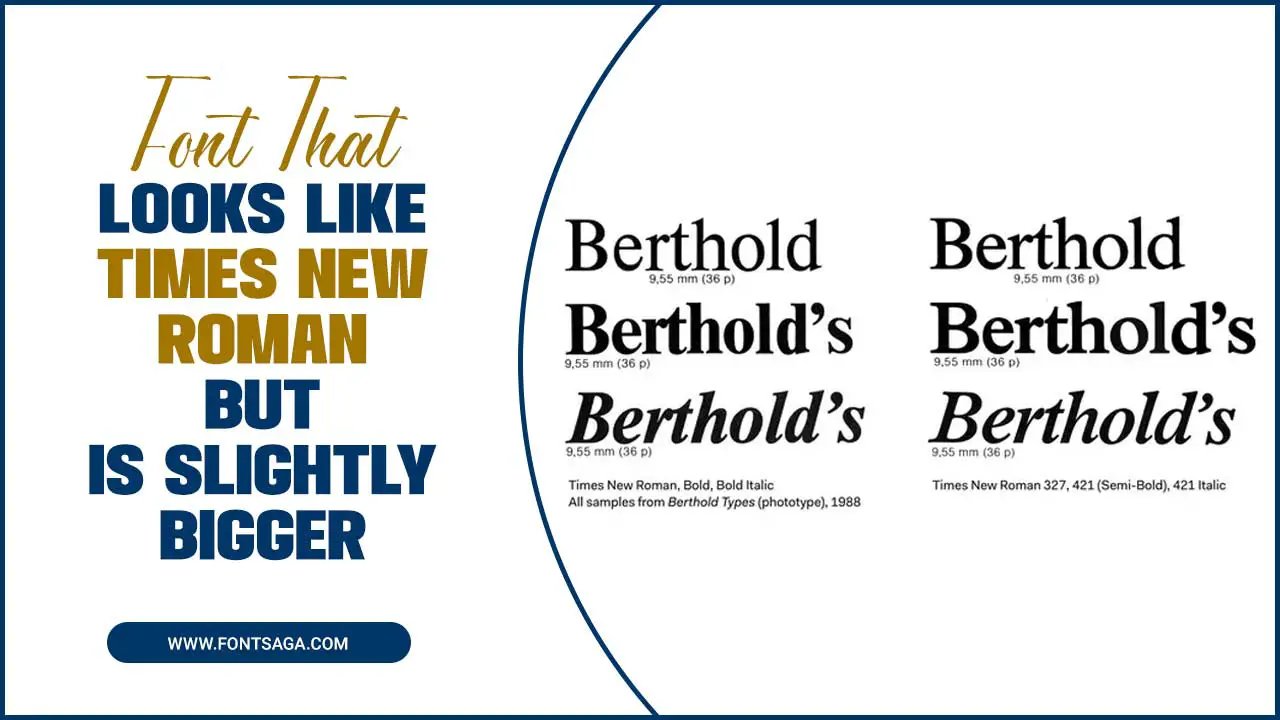 Exploring The 5 Best Font That Looks Like Times New Roman But Is Slightly Bigger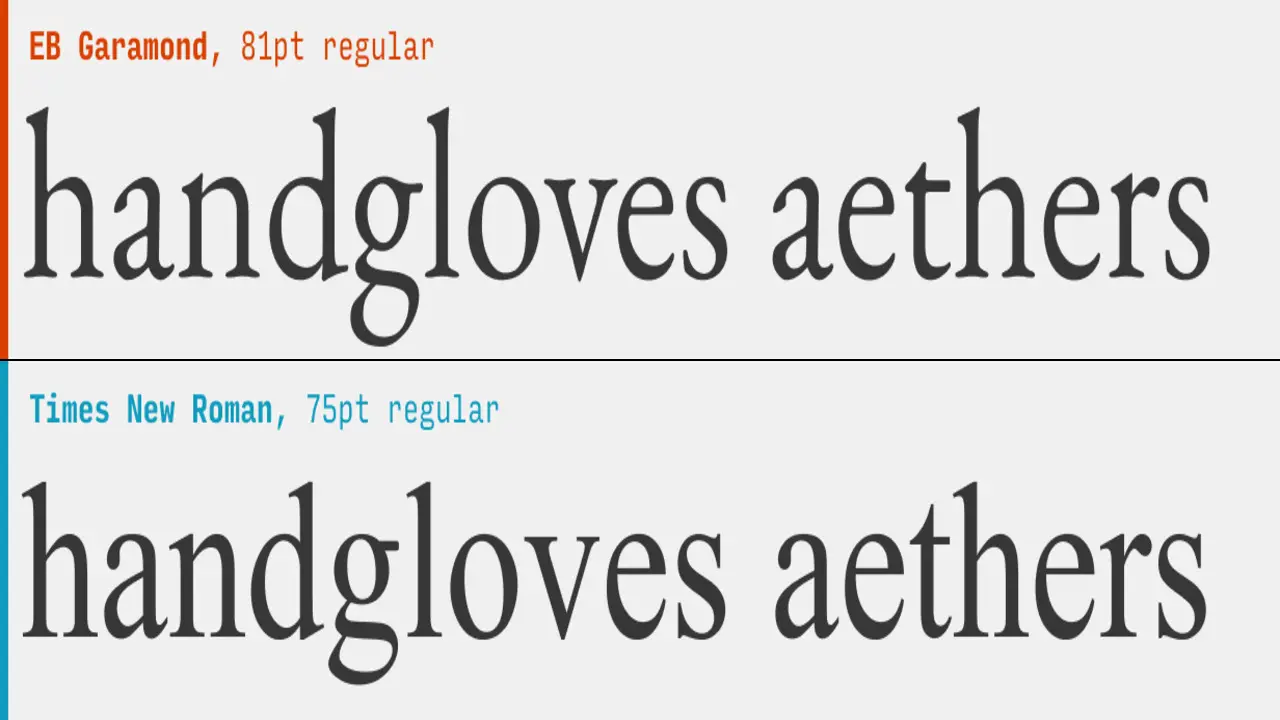 Have you ever been in a situation where you needed to use a font that looks like Times New Roman but is slightly bigger than the original? You're not alone. Many people face this challenge, especially when working on academic or professional documents requiring a specific font size and style. The good news is that several options are available to help you achieve this goal.
If you're looking for fonts that resemble Times New Roman but are slightly larger, here are five options:
Cambria: Microsoft designed the popular font Cambria. It is similar to Times New Roman but has slightly larger letterforms, making it easier to read.
Book Antiqua: Book Antiqua is a typeface closely resembling Times New Roman but has slightly larger characters. It maintains a classic and elegant look while offering improved readability.
Georgia: Georgia is a web-safe font widely used for online content. It has larger letterforms than Times New Roman, making it more legible, especially on screens.
Garamond: Garamond is a classic serif font known for its readability. While it may not have the exact look of Times New Roman, it is slightly larger and can be a good alternative.
Baskerville: Baskerville is another elegant serif font similar to Times New Roman but slightly larger. It has a timeless appeal and is often used for print materials.
Best Practices For Using The Font In Different Contexts
When typography, the font you choose can make all the difference in communicating your message effectively. However, using a font in different contexts can be a challenge. That's why knowing the best practices for using the font in various settings is important. Whether you're using the font on a website, in a print advertisement, or a logo, there are certain guidelines to keep in mind.
For instance, choosing a legible and easy-to-read font is important, especially regarding body copy. Sans-serif fonts tend to be more legible on screens, while serif fonts are more traditional and may be better suited for printed materials.
Troubleshooting Common Font Issues
In today's digital age, fonts are crucial in design and communication. However, font issues are common and can often cause frustration and delay in achieving desired results. Troubleshooting common font issues can be time-consuming, but ensuring your design looks consistent across different platforms and devices is essential.
One common issue is compatibility, where a font may look great on one device but not display correctly on another. This can resolved by choosing compatible fonts across multiple devices and ensuring you have the correct font file format. Another issue is font size, which can be too small or too large, making the design look unprofessional. Adjusting the font size can resolve this issue.
Conclusion
Finding a font that looks like Times New Roman but is slightly bigger can be challenging, especially if you are looking for a professional and reliable option. However, with some research and experimentation, you can find the perfect alternative that meets your needs.
Remember, selecting the right font is critical in delivering your message effectively, and it can help enhance your documents' overall appearance and readability. Therefore, take the time to explore different options and choose a font that aligns with your brand and communication goals.
FAQ
1.What Font Name Resembles Times New Roman But Is Slightly Bigger?
Ans: The font name that looks like Times New Roman but is slightly bigger is Times New Roman Bold.
2.How Does The Increased Font Size Affect The Text's Readability?
Ans: Increasing the font size generally improves the text's readability, making it easier to read and comprehend, especially for people with visual impairments.
3.Are There Any Notable Differences Besides The Size Between The Font And Times New Roman?
Ans: Yes, there are notable differences between the font and Times New Roman besides the size. These differences include letter spacing, kerning, stroke width, and overall design and style.
4.In What Contexts Would This Font Be A Suitable Alternative To Times New Roman?
Ans: In general, a font can be a suitable alternative to Times New Roman in contexts where a more modern or unique look is desired. For example, it may be appropriate for creative or artistic projects, or for documents in industries such as fashion or design.
5.How Does This Font Compare To Other Popular Serif Fonts In Terms Of Legibility And Overall Design?
Ans: In general, the legibility and overall design of a serif font can vary depending on various factors such as the font size, thickness, spacing, and individual preferences. Some popular serif fonts known for their legibility and design include Times New Roman, Georgia, and Baskerville.