Handwritten fonts, or script fonts, simulate the look of handwritten text. These typefaces are a great way to infuse a personal and distinctive feel into your documents, presentations, or designs.
You can establish a more informal or artistic atmosphere in your work using handwriting fonts. When selecting a handwriting font, it is essential to consider its legibility and suitability for your intended audience and purpose.
If you are tired of using the same old boring fonts in your Word documents or want to add a personal touch and make your text look more unique and creative, this blog is for you. We will introduce you to 5 fantastic font that looks like handwriting in Word that will give your documents a fresh, handwritten look.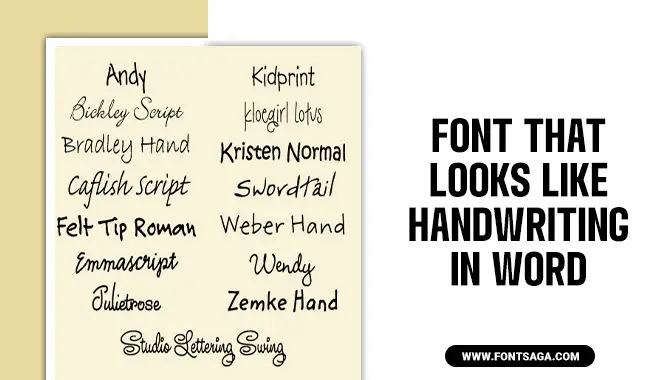 5 Font That Looks Like Handwriting In Word Find The Perfect Match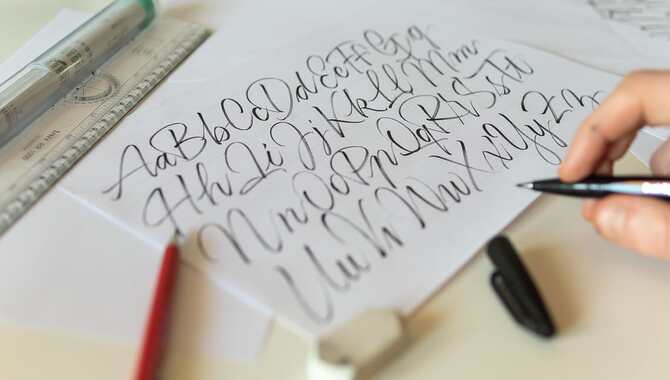 Handwriting fonts contribute to the personalization and uniqueness of your documents, presentations, or designs. These typefaces emulate handwritten text, imbuing your work with informality and creativity.
Considering the variety of options available, finding the ideal handwriting font is essential. Here we give you the top 5 font that looks like handwriting in Word:
1. Segoe Script
Segoe Script is a popular handwriting-style font available in Microsoft Word. It adds a personal touch to your documents and remains highly readable, making it suitable for headings and body text. The handwritten feel of Segoe Script makes your documents engaging and visually appealing.
When using Segoe Script in Word, choose the right size and formatting options to maintain legibility and flow. Experiment with different sizes and styles to balance readability and aesthetics, aiming for a handwritten look without sacrificing readability.
2. Lucida Handwriting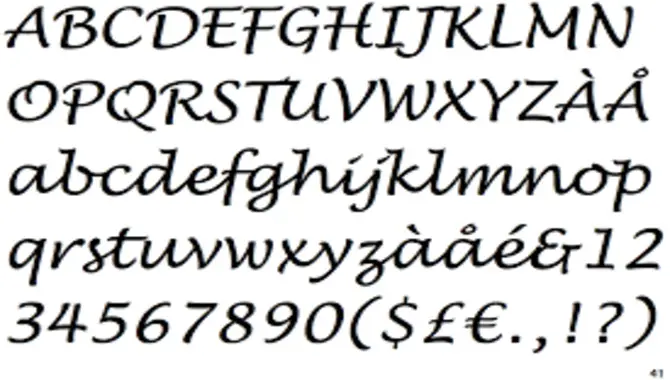 Emulate elegant cursive handwriting in Word with Lucida Handwriting. This widely recognized font adds a personalized touch to any document. It's flowing strokes and legible script make it perfect for invitations, greeting cards, or personal notes.
Lucida Handwriting brings a handwritten feel to your text with its smooth strokes and graceful curves. It offers regular and italic styles for further customization. Whether you want refinement or playfulness, this font has you covered.
3. Bradley Hand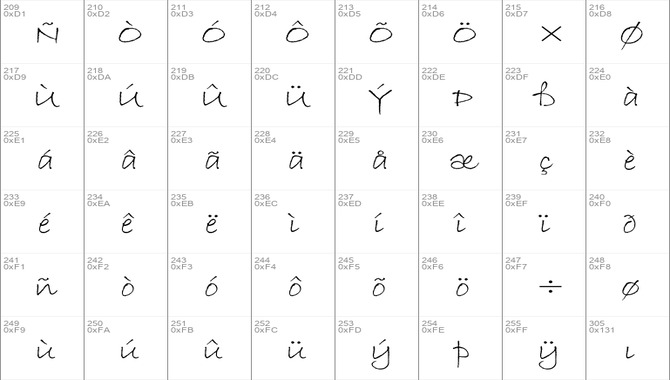 Bradley Hand is a popular handwriting font that mimics casual, cursive writing. It adds a personal touch to personal projects like invitations or greeting cards. This versatile font can be easily accessed in most word processing programs, including Microsoft Word.
Balancing personalization and professionalism is essential when using this font. Experiment with different sizes and formatting options to ensure optimal legibility.
4. Comic Sans Ms
Comic Sans MS is a widely recognized font that imitates handwriting. It is commonly used in informal documents and presentations for a casual and playful ambiance.
Despite criticism, it can offer a personal touch when used thoughtfully. Remember to prioritize readability and legibility when working with Comic Sans MS or any other handwriting font for easy understanding by readers.
5. Kristen ITC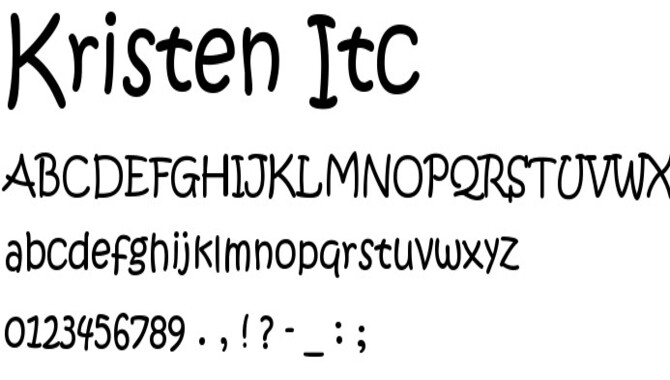 Kristen ITC is a popular handwriting font that captures the essence of the casual and cursive text. Its slightly slanted and irregular characters add a personal touch to any project.
This font is favored by individuals seeking a unique flair for private projects, invitations, and informal documents. Kristen ITC's uneven appearance gives it an authentic and organic look, perfect for conveying a private message.
Conclusion
using handwriting fonts in Word can add a personal touch to your documents and make them stand out. Whether you want to add a creative flair to your presentations or make your invitations look more unique, handwriting fonts offer a range of benefits.
From Segoe Script to Kristen ITC, plenty of options are available to suit your style and purpose. So why settle for boring, standard fonts when you can make your documents come alive with the look of handwritten text?
Experiment with different handwriting fonts and find the perfect match for your next project. The above outline on the top 5 font that looks like handwriting in Word will be helpful for you to choose the correct font.
Frequently Asked Questions
1.Which Font Looks Like Handwriting On Word?
Ans: Some popular handwriting-style fonts for Word include "Segoe Print," "Bradley Hand," and "Lucida Handwriting." Fonts like "Kristen ITC" and "Comic Sans MS" also have a handwritten feel. Make sure the font is legible and fits the document's context. Try different options to find your preferred style.
2.What Font Best Resembles Handwriting?
Ans: Fonts like "Segoe Script," "Bradley Hand," and "Lucida Handwriting" closely mimic handwriting. Other options such as "Brush Script," "Kristen ITC," and "Comic Sans MS" also provide a handwritten feel. The best font for handwriting depends on your style and legibility preferences. Experiment with different fonts to find the one that suits your needs.
3.What Font Size Mimics Handwriting?
Ans: Font sizes between 10-14pt typically imitate handwriting. Selecting a legible font that is easily readable at the desired size is crucial. Try various font sizes and consider adjusting spacing and line height for a more natural handwritten appearance.
4.What Microsoft Font Looks Like In A Child's Handwriting?
Ans: Microsoft Word offers several fonts that can give your text a handwritten feel. "Comic Sans MS" is commonly associated with a child's handwriting, while "Bradley Hand" has a handwritten style. You can use "Marker Felt" or "Kristen ITC" for a more playful and whimsical feel.
5.What Is The Best Font For Writing In Microsoft Word?
Ans: The best font for writing in Microsoft Word depends on personal preference and the document's purpose. Popular options include Times New Roman, Arial, Calibri, Garamond, Georgia, and Verdana. Choose a legible and easy-to-read font for longer documents.