A logo is one of the most crucial brand identity elements and must be perfect. Choosing a font for your logo can be daunting, especially when considering that your chosen font will become your brand's visual identity.
Cursive fonts have been a popular choice for branding and logo design for a long time, and they are here to stay. If you are looking for the perfect font for your next logo design, you have come to the right place.
We will take you through the ultimate guide for cursive logo fonts. We have curated a list of the ten best cursive fonts for designers, each with unique features and styles.
We will also break down the best cursive fonts for logos, from modern and elegant to chic, retro, and handwritten. So, whether designing a brand-new logo or redesigning an existing one, keep reading to find the perfect cursive font for your logo.
10 Best Cursive Fonts For Designers
Cursive fonts give any design an ancient aura, making them perfect for a formal writing style. As a designer, staying up-to-date with the latest design trends in typography is important to make your work stand out.
Roseroot Cottage, Heather Oliver, Sallowbliss, and Crystal Sky are some of the top ten cursive fonts designers can use to enhance their work.
With millions of cursive fonts available online, finding the ones perfect for your design needs can be overwhelming. To make it easier, Google offers a vast collection of 846 free cursive and brush fonts that designers can use to their advantage.
Among these, Mighty Sunday, Crafty, Retro, Script, and Vintage are some of the most popular choices, and they can serve numerous design projects. Make your work stand out by using the best cursive fonts.
1. Roseroot Cottage
Roseroot Cottage is one of the best cursive fonts for designers, with a playful and romantic feel. This font mimics imperfect handwriting and has multiple lowercase letters and ligatures options.
It's perfect for creative projects that require a touch of charm and personality, such as wedding invitations. The font has to coordinate hand-drawn sans and serif, providing designers with endless possibilities.
Designers can now download Roseroot Cottage Font to add a unique touch and make their work stand out. Whether you're working on wedding invitations, greeting cards, or social media designs, Roseroot Cottage is a great choice for adding a touch of playfulness and romance.
2. Heather Oliver
Heather Oliver is a versatile cursive font perfect for logo design, branding, and textiles. Its handwritten feel adds a contemporary touch to any project.
This font comes in regular and italic versions, both available in different weights. Heather Oliver's versatility makes it one of the best cursive fonts for designers to use in their projects.
Some of the best uses for Heather Oliver include logos, branding, and textiles. Its unique style can help businesses stand out and create a memorable brand identity.
Whether you're creating a logo for a new company or designing a textile print, Heather Oliver is a fantastic choice for any designer looking to elevate their work.
3. Signature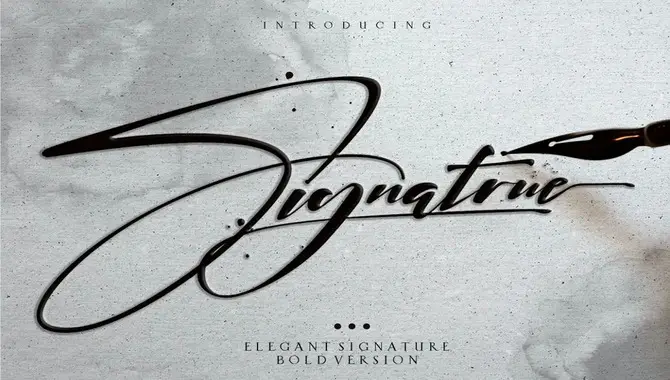 If you want to create an elegant cursive logo design, you'll want to consider using the Signature font, as it is a perfect choice for cursive handwriting and signatures.
For those looking to add more dramatic flair to their designs with large flourishes on letters, Scriptina is a great choice. And for those who need a versatile cursive font, Smoothy font duo includes a legible script font and a rounded sans serif font for pairing.
Choosing the right cursive font for your logo design can contribute to making it stand out and inspire creative ideas for branding. Signature font, in particular, is ideal for various design needs like merch, T-shirts, book covers, and social media posts.
It has extra ligatures and swashes to make your design even more captivating. With these excellent cursive font options, designers can easily create stunning and professional logos.
4. Violette
When it comes to cursive logo fonts, there are plenty of options to choose from. The Violette cursive font is a popular choice for tattoos. At the same time, the Violetta script is a sophisticated and customizable font pack perfect for logos and invitations.
If you want to use the Violette font, it can be easily downloaded for your logo designs, with many great cursive font options available. You will surely find the perfect one for your next logo or design project.
5. Queensland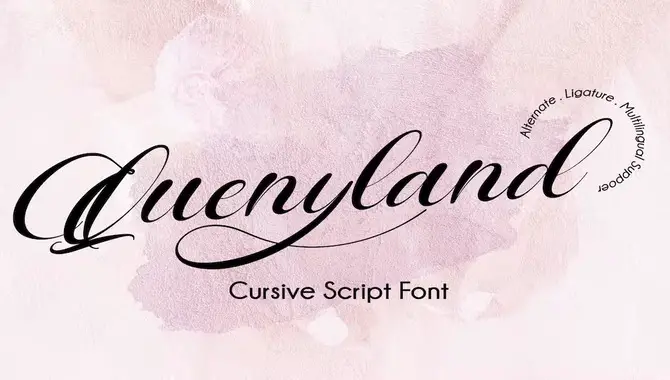 Quenyland is a calligraphic cursive font perfect for elegant design projects such as invitations and branding.
This font has uppercase and lowercase letters, numbers, punctuation, alternate characters, ligatures, and multilingual support, making it a versatile option for designers.
The Open Type features of Quenyland can be accessed with popular programs such as Adobe Illustrator, InDesign, Photoshop, and Microsoft Word.
It is widely recommended as one of the top 10 cursive fonts for designers due to its exceptional design and functionality.
For those looking for a free alternative to Quenyland, Noelan is a quirky script font offering alternates and international characters. Regardless of which font you choose, these cursive logo fonts can add a touch of elegance and sophistication to any design project.
6. Sallowbliss
One of the best cursive logo fonts for designers in 2023 is Sallowbliss. This feminine cursive signature font features light strokes and captivating characters perfect for social media and logo design.
Sallowbliss commands attention and is excellent for headlines, quotes, and signatures. The download includes uppercase, lowercase, and multilingual support, making it a must-have for any designer looking for an eye-catching cursive font.
7. Crystal Sky
One cursive font that designers should consider is Crystal Sky. Thanks to its clean and modern design, this font is perfect for logos, branding, and other design projects. Crystal Sky is a versatile font used in various contexts, particularly contemporary design.
In addition, Crystal Sky is available in regular and condensed versions, providing flexibility when it comes to fitting text into different spaces.
Both font versions are compatible with Adobe Photoshop and Illustrator, making it easy for designers to incorporate them into their design process.
Whether you're looking for a font for a new logo or want to add a touch of elegance to your next design project, Crystal Sky is worth considering.
8. Burnt Rose
Burnt Rose is a versatile calligraphy font suitable for various projects, including packaging, advertising, and social media. Small business owners and designers will appreciate the elegance and style captured in Burnt Rose's strokes and curves, making it ideal for quotes, t-shirts, and modern text overlays.
The font includes standard upper and lowercase letters, numbers, punctuation, ligatures, alternates, and multilingual support. Its versatility and attention to detail make it a great option for creative and beautifully designed works.
In addition to Burnt Rose, Honey Script Light is a retro-style script font with unique, elegant flourishes that add class to any design.
Its curves and stylistic nuances make it a popular choice among designers looking to add a touch of vintage style to their work. With their mix of modern and retro aesthetics, Burnt Rose and Honey Script Light are must-have cursive fonts for any icon designer in 2023.
9. Smoothy
Smoothy is a popular font duo that includes a cursive script font and a rounded sans-serif, designed specifically for font pairing.
It is well-known for its stylish hand-rendered look, making it a great choice for logos, prints, headers, and other design projects. With its uppercase and lowercase letters in the cursive script font, Smoothy supports using more than 30 languages.
Smoothy font is a great choice for documents that need to convey a professional and clean feel. The simple design of Smoothy font makes it easy to read and highly legible, making it an ideal choice for business documents.
Additionally, Smoothy font is highly versatile and can be used for various purposes. It can be used in print and digital documents and looks great. Smoothy font is an excellent choice for documents that need to make a good impression.
10. Florateris
Florateris is a beautiful cursive font with delicate script strokes and flowing curves. It's perfect for creating elegant wedding invitations, cards, logo designs, or other text-based projects.
The font includes standard uppercase and lowercase letters with two stylistic variations – classic and modern – to give you more options for customizing your work.
Florateris also includes punctuation marks, numerals, special characters, diacritical marks (including Euro signs), and ligatures that support Unicode eight-character set encoding compatibility on Windows platforms only.
What Are The Best Cursive Font For Logos
Cursive fonts are known for their elegance and are a popular choice for logo designs in various industries, such as fashion, art, and business.
Multiple cursive logos are available for businesses, or they can get a custom cursive logo designed by professional designers. Cursive fonts offer a unique expression for brands to stand out with short phrases and various styles.
When choosing the best cursive font for a logo, it's important to consider the brand's personality and message. A great cursive font can inspire creative ideas and convey the concept of the brand.
A brand must select a font that represents them unconventionally and translates their message accurately. Ultimately, the right cursive logo can set any brand apart from the competition and elevate the brand to new heights.
Modern And Elegant Cursive Fonts
Modern and elegant cursive fonts are all about big swirly bits and visual appeal. They are best used for headlines, logos, or short pieces of text that require a bit of flair. Handwritten cursive fonts work well with health & wellness, lifestyle, and executive brands.
Wilbury Stratton, an executive search and intelligence firm, uses a handwritten cursive font for their logo, defying the conventional use of the font to great effect. With so many great options, choosing the best cursive font for your logo design is fun and creative.
Chic And Brush Cursive Font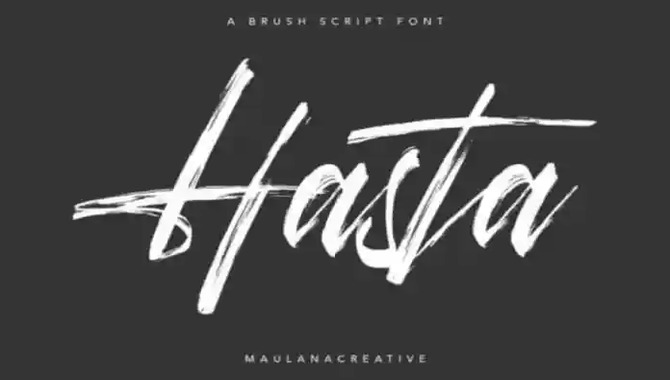 When creating iconic logos, cursive fonts can add a touch of elegance and personality. The stylish and brush cursive font is popular for brands looking for an instant signature vibe. TUI uses a bold, simple sans-serif font to convey stability and safety in its travel brand.
A textured brush cursive font adds a unique touch to boutique, beauty, or interior design logos. Professional designers can also create custom cursive logos to perfectly show a brand's personality.
Whimsical cursive fonts can be a playful addition to fashion and photography logos. With the right cursive font, your logo design can stand out and make a lasting impression.
Retro Cursive Font
Cursive fonts are great for creating powerful retro-feel logos for many businesses, including tattoo parlors, barbershops, and food trucks. Retro cursive fonts are ideal for mid-century logo designs, movie posters, book covers, and party invitations.
Choosing the right cursive font for your logo design ensures that your brand stands out from the crowd and leaves a lasting impression on your audience.
Handwritten Cursive Font
Cursive logos come in different forms, including letter marks, word marks, and handwritten logos. Handwritten cursive fonts are a great choice for those seeking a classic and unique logo design. One of the best cursive fonts for retro and mid-century-style logos is Honeyloops.
When selecting a cursive font for your logo design, choosing from a selection or refining your search is important to ensure that the font matches your brand's personality and target audience.
Cursive fonts are perfect for various industries as they resemble natural handwriting and have a timeless appeal. They are commonly used for diplomas, events, invitations, and documents.
Conclusion
When designing logos with cursive fonts, the options are endless. From modern and elegant to chic and retro, each cursive font has its charm and appeal. The font you choose will depend on your target audience and brand image.
Refer to our ultimate guide on the ten best cursive fonts for designers in 2023. Explore different categories such as Modern and Elegant Cursive Fonts, Chic and Brush Cursive Fonts, Retro Cursive Fonts, and Handwritten Cursive Fonts. Get inspired and create a cursive logo font that best represents your brand.
Frequently Asked Questions
1. What Cursive Font To Use As A Logo?
Ans: When choosing a cursive font for your logo, consider using various options and multiple styles for short words or phrases. It's important to ensure that the cursive font you choose aligns with the brand's personality and image.
Browse through examples of professional cursive logos for inspiration, or use a cursive logo maker to generate ideas.
2. Are Cursive Fonts Good For Logos?
Ans: Cursive fonts can be a great option for logos, as they are elegant, unique, and classic, with a natural handwriting style. Custom cursive logos can showcase a brand's personality, making them perfect for various industries.
3. What Brand Has A Cursive L Logo?
Ans: No specific brand is associated with a cursive L logo, as it is a common design found on various boutique and makeup logos. The logo is often paired with rose gold and elegant fonts and may be designed in a modern, hand-drawn style.
4. What Is A Good Font That Looks Like Cursive?
Ans: Several good fonts look like cursive, depending on your project. 5th Grade Cursive is a realistic and creative font for vintage or retro projects. Elegant script fonts with swirly bits can make a statement for logos or headlines.
5. Do I Get My Cursive Logo In Vector Format?
Ans: Several options are available for your cursive logo in vector format. You can choose a cursive logo from available templates or use a free logo generator to create your unique design. There are also royalty-free cursive logo font illustrations and vectors available for purchase.