Canvas font refers to the typefaces or fonts used in HTML5 canvas elements. Designers typically create these fonts using vector graphics, which enables them to scale them up or down without losing quality.
Web designers often use canvas fonts to add visual interest and variety to text elements on a page. Creating beautiful designs has never been easier. With the help of Canvas Font List, you can now easily elevate your design game.
Here we have compiled a list of the 14 best free canvas font lists for your designs. So whether you are a professional designer or someone looking to spruce up their social media posts, this blog will help you create stunning designs that stand out.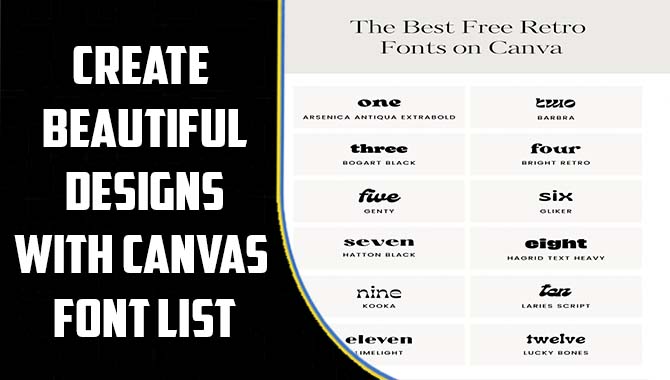 14 Best Free Canvas Font Lists For Your Design
The font styles used within HTML5 canvas elements are called Canvas fonts. People typically use these fonts to create visual effects or graphics on a web page or application. Designers often explicitly design canvas fonts with HTML5 canvas in various styles and sizes.
Want to make your designs stand out with the perfect free font? Our 14 Best Free Canvas Font List has got you covered. With a wide range of styles, including serif, sans-serif, and script fonts, this list features free fonts that are easily read and suitable for different sizes. Download them now and take your branding to the next level with custom fonts on social media graphics, logos, flyers, brochures, layouts and more.
1.Dm Serif Display
Elegance and readability come together with DM Serif Display, making it the perfect serif font for your headings and titles. Its thick, bold lines ensure optimum readability, even at smaller sizes, while adding a timeless touch of sophistication to your designs. Achieve beautiful contrasts by pairing DM Serif Display with a complimentary sans-serif font. Don't settle for default fonts; elevate your branding with this stunning typeface.
2.Vidaloka
Vidaloka is a stunning serif font that can add elegance to your designs. Designed by Cyreal, this free font is perfect for vintage or retro designs and works well as both headlines and body text. It's a strong presence and unique design features make it ideal for social media graphics on Instagram or Facebook. Vidaloka pairs well with sans-serif fonts like Open Sans or Lato to create the perfect font pairings for your branding needs.
3.The Seasons
When choosing fonts for your canvas designs, considering the season can be a great starting point. Add a personal touch to your design projects with The Seasons, a beautiful handwriting font. Perfect for mimicking the look of handwritten notes or letters, this free font features elegant curves and flourishes. Pair it with simple and minimalist designs for an added touch of elegance.
4.Cardo
Cardo is the perfect choice if you want to add an element of elegance to your formal designs or invitations. This serif font was created with academic and religious contexts in mind and came with several ligatures and diacritic marks that add to its aesthetic appeal. Whether you need a regular or bold-weight font for your project, Cardo will surely give your design the desired sophistication.
5.Lora
For elegant designs, Lora is the perfect font choice. This classic serif font is easily readable in digital and print formats. Multiple weights are available to create different styles and emphasize specific parts of your design. Lora's timeless feel makes it ideal for any structure needing some sophistication.
Secondary Key terms used: typography, elegance, serif font, print designs, digital designs.
6.Libre Baskerville
Libre Baskerville is an elegant and sophisticated serif font with excellent readability for headings and body text. This typeface can be paired with sans-serif fonts to create balanced designs. Use Libre Baskerville in print materials like invitations, menus, or book covers to add a touch of elegance and sophistication to your project.
Secondary Key terms: serif font, print materials, invitations, menus, book covers, elegance, sophistication.
7.Noto Serif Display
Noto Serif Display is a serif font ideal for headlines and titles. Its classic design with modern elements makes it suitable for both traditional and contemporary designs. This versatile font comes in multiple weights and is perfect for various design projects. Moreover, its readability and elegance make it the go-to font for designers to create graphics, logos, flyers, brochures, social media graphics or web designs.
8.Merriweather
Merriweather is a classic serif font that can add elegance and sophistication to your designs. Its timeless feel complements well with sans-serif fonts to create beautiful design elements with contrast and visual interest. Merriweather is also versatile enough for both screen and print mediums. Use this free serif font in various design projects like social media graphics or brochures to make them stand out.
9.Playfair Display
The elegance and sophistication that Playfair Display brings to your designs are unmatched. Its high contrast between thick and thin strokes gives any project a unique and stylish appearance. Perfect for creating headings, titles, and logos, this serif font comes in multiple weights suitable for various design projects. Pairing it with sans-serif fonts creates an impeccable modern twist on traditional layouts.
10.Poppins Light
With its clean and modern look, Poppins Light is a popular sans-serif font that works great for body text and headings. Its versatility lies in pairing exceptionally well with other fonts, allowing designers to create unique typography combinations.
One can easily download this font from various font websites for free, making it accessible to designers on any budget. With its availability in multiple weights, Poppins Light is perfect for different design projects such as social media graphics, blog templates, flyers, brochures or even logos.
11.Glacial Indifference
If you're looking for a modern and clean typeface for your minimalist designs, Glacial Indifference is the perfect choice. With its various weights and styles, this web font is versatile enough to suit any design project. For added design interest, pair it with other sans-serif or serif fonts from our complete list of free fonts.
12.Josefin Sans Thin
With its modern and elegant design elements, Josefin Sans Thin font is ideal for creating eye-catching headings and titles in your designs. Whether you're designing logos or social media graphics, this font's clean lines and unique style are perfect for minimalist designs. Plus, it's a free download for personal and commercial projects! Pair it with other sans-serif fonts to create excellent typography, or use it alone to add elegance to your branding.
13.Quicksand Light
With its lightweight and clean lines, Quicksand Light is the perfect font choice for any design project that requires elegance and simplicity. Whether you are creating flyers, brochures or social media graphics, this sans-serif font will add sophistication to your work. And the best part? Quicksand Light is available for free download.
14.Agrandir
For a perfect font for your next project, consider Agrandir. This elegant sans-serif font offers clean, modern lines and comes in multiple weights and styles, making it highly versatile for any design element you need. From minimalist designs to sophisticated branding, Agrandir has got you covered. Download this free font today and see how it can elevate your graphics or logo.
How To Use Fonts In Canva
Choosing the right fonts can make all the difference if you're looking to spice up your designs in Canva. Luckily, using fonts in Canva is easy and intuitive. Select the text box you want to customize and click on the "Fonts" tab in the left-hand menu to get started.
Here, you'll find various font options, including serif, sans-serif, script, and decorative fonts. You can also filter by style or search for specific fonts by name. Once you've chosen a font you like, click on it to apply it to your text. Don't be afraid to experiment with different font combinations and sizes to create a unique design look!
How To Find Fonts In Canva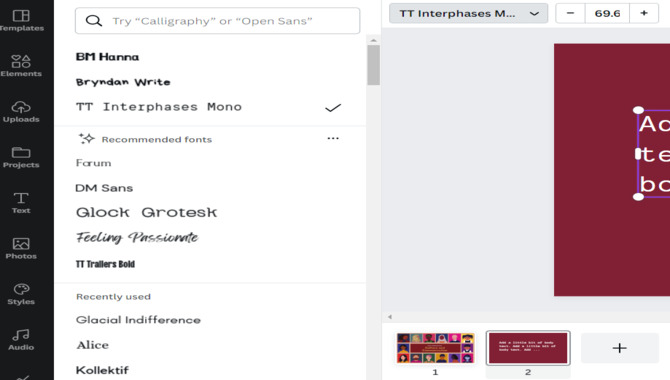 Finding the perfect font can be challenging for those using Canva to create social media graphics or design elements. However, users can easily elevate their work's typography by exploring the numerous font options and using the search feature to find specific fonts like Baskerville or Garamond.
Additionally, users should consider their project's overall mood and tone when selecting a serif or sans-serif font for body text or headlines. Once you have chosen your fonts, experiment with different pairings like Libre Baskerville and Bebas Neue for a complete list of free fonts that Canva offers.
Conclusion
Canva is a tool that makes designing easy and fun. It has revolutionized the world of graphic design by making it accessible to everyone. Fonts play a significant role in creating beautiful designs, and with the Canvas font list, you can access some of the best free fonts. Whether for your website or social media posts, these fonts will help elevate your designs.
To start using them, select the text box and click on the font dropdown menu to choose from the list. You can also search for specific fonts by typing their name in the search bar. With Canva font list, you don't have to be a designer to create stunning visuals. Start experimenting with these free fonts today.
Frequently Asked Questions:
1.What Fonts Are Used In Canvas?
Ans. Canvas gives various font options, from classics like Arial and Times New Roman to modern fonts such as Montserrat and Lato. Additionally, custom fonts can be uploaded. When choosing a font in Canvas, consider readability and the tone of your message.
2.What Is The Most Awesome Font On Canva?
Ans. Canva provides a vast selection of fonts; the coolest one depends on your design and taste. Popular options include Futura, Bebas Neue, and Montserrat, among others. Explore various styles to discover the ideal font for your project.
3.How Do I Search For A Font In Canva?
Ans. To find a font in Canva, select the text box and click on the font dropdown menu—type in keywords or filter by style, mood, and language. Custom fonts can also be uploaded.
4.What Are The Default Canva Fonts?
Ans. Canva has a plethora of fonts available, both free and premium. The default options are Arial, Helvetica, Open Sans, Roboto, and Times New Roman. Custom fonts can also be uploaded. Selecting the appropriate font is crucial for creating visually pleasing designs that convey your message effectively.
5.What Is The Default Font Family In Canvas?
Ans. Canvas uses "Arial" as its default font family, but users have the flexibility to choose from various font families like "Open Sans", "Roboto", and "Montserrat". Additionally, users can upload their custom fonts for more personalized designs.