A signature font is a typeface designed to resemble a handwritten signature. It is commonly used in digital signatures and design projects to add a personalized touch.
These fonts usually feature cursive or script-like letterforms, offering a fluid and elegant appearance. A wide variety of signature fonts are available, ranging from bold and extravagant styles to delicate and refined options.
Your signature reflects your personality and style, and choosing the right font can make all the difference. We will delve into the best word font for signature that is perfect for creating a unique and stylish signature. So whether you're signing official documents or simply want to add a touch of flair to your emails, this blog will guide you toward finding your perfect signature font.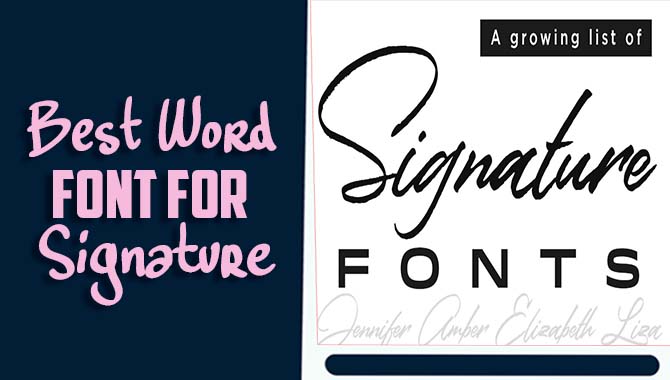 The 7 Best Word Font For Signatures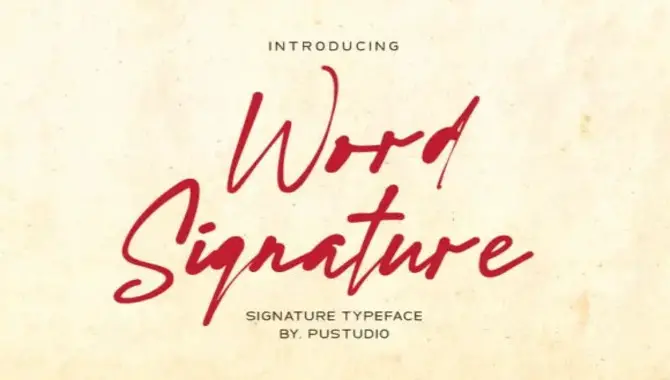 When searching for the best word font for signature, there are numerous options. Each font has its unique style and vibe, allowing you to add a personal touch to your signature design. Incorporating the right signature font can significantly create a professional and elegant look for your email signature, logo, or even wedding invitations.
To consider the typeface, serif fonts like Times New Roman can add a touch of sophistication, while sans-serif fonts like Helvetica or Calibri can give a more modern vibe. Lucida Handwriting and Brush Script can bring a natural handwriting feel to your signature. Experiment with different fonts to find the one that matches your style and adds a personalized touch. Here are some fonts below:
1. Nexa Script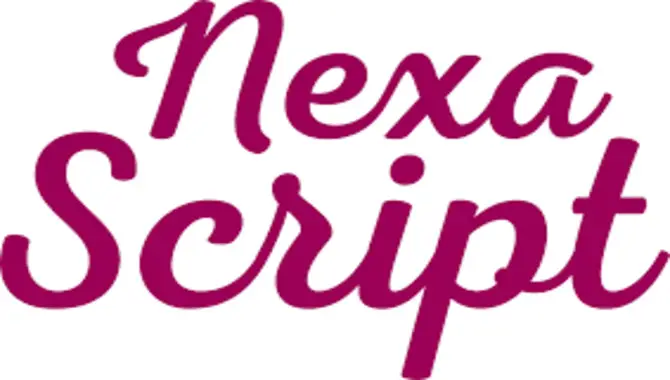 Nexa Script is a top choice among font enthusiasts. This unique and stylish font adds a touch of sophistication to any signature thanks to its modern and elegant design with flowing lines and curves. Versatile and suitable for both formal and casual signatures.
Nexa Script is ideal for personal branding or adding an artistic touch to your documents. Its distinctiveness and legibility make it the best signature font for creating a positive impression. Give your signature a professional and elegant vibe with Nexa Script.
2. Mistrully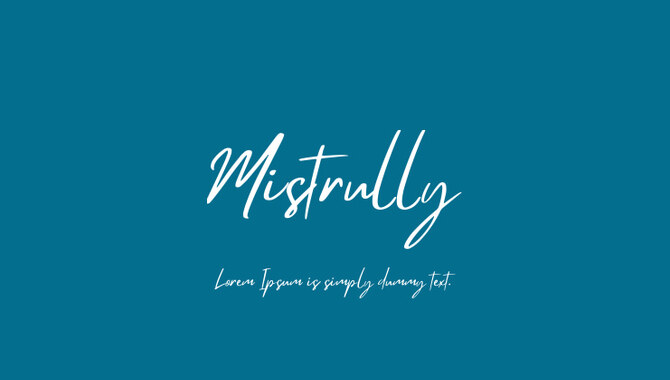 Mistrully, a stylish and elegant font, enables you to create a professional and unique signature. Its handwritten appearance, graceful curves, and smooth lines bring sophistication to any email or document. Whether you need a signature for business correspondence or want to personalize your email, Mistrully is versatile.
It's free downloadable and easily installed in popular word processing programs like Microsoft Word. It allows you to seamlessly incorporate this font into your signature design, adding a touch of elegance to your digital correspondence.
3. Pinyon Script
Pinyon Script, a captivating cursive font, adds a touch of elegance and sophistication to any signature. Its flowing and natural look makes it the perfect choice for personalized signatures that leave a lasting impression. Pinyon Script is easy to read and customizable, allowing you to create a signature that reflects your style.
This font is versatile and can be downloaded and installed in Microsoft Word, whether for formal or informal use. With Pinyon Script, your signature will have a unique and stylish vibe, making it stand out on emails, documents, or social media profiles.
4. Satisfy
Satisfy font is an excellent choice for crafting a signature with a personal touch. This casual and elegant font exudes a unique vibe, perfect for formal and informal signatures. It is easy readability and smooth flow resembling natural handwriting, creating an authentic feel.
Whether you're creating an email signature, designing business cards, or crafting wedding invitations, Satisfy font showcases immense versatility. It beautifully complements other fonts and allows customization of your preferred thickness. Download Satisfy font in its regular or bold versions, and infuse your signature with elegance and style.
5. Playlist Script
With its stylish and elegant design, Playlist Script is the perfect font for creating a personalized signature. Mimicking the appearance of a handwritten script, this font adds a touch of sophistication and professionalism to any document or digital signature.
Its smooth and flowing appearance ensures that your signature stands out on the page, leaving a lasting impression. Whether you're using it in email signatures, documents, or digital artwork, Playlist Script will surely add a touch of elegance to your signature design.
6. Helvetica – (Works 100% Only On Mac)
With its clean and modern look, Helvetica is a widely recognized and versatile font choice for signatures. It adds a touch of professionalism to your signature, creating a positive impression. Whether you're signing documents, creating an email signature, or designing a logo,
Helvetica ensures legibility and readability. As a widely used font, it's available on various platforms, including Mac devices. Helvetica allows you to customize your signature, giving it a personal touch and ensuring it reflects your unique style.
7. Trebuchet MS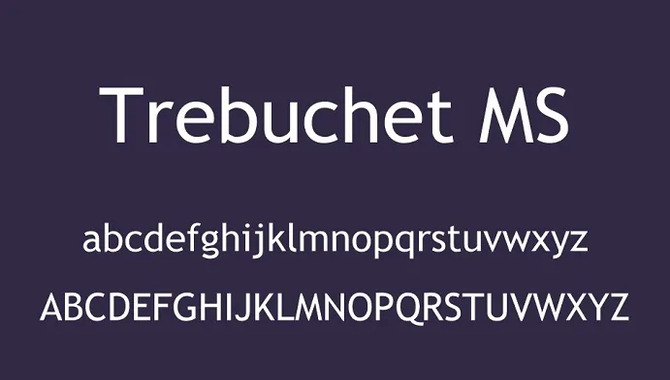 Trebuchet MS is a clean and modern font that offers a professional look for your signature. Its balanced design and slightly curved edges make it visually appealing and easy to read. You can customize the thickness of your signature by choosing different font weights. Trebuchet MS is widely supported across devices and software, ensuring a consistent appearance.
It is suitable for formal and informal signatures, making it a versatile option for personalizing your documents, emails, social media posts, wedding invitations, business cards, and packaging. The font's legibility and elegance create a positive impression, adding a personal touch to your signature design.
With Trebuchet MS, you can achieve a natural handwriting vibe without the hassle of using an actual signature. Download Trebuchet MS now and elevate your signature to the next level.
How To Choose The Perfect Word Font For Your Signature
When choosing the perfect word font for your signature, it's crucial to consider several factors. First, prioritize legibility by opting for a clear, easy-to-read font. Balance your personal style with professionalism, avoiding overly decorative or elaborate fonts. Consider the context in which your signature will be used, such as emails or business cards, and choose an appropriate font.
Experiment with different fonts, cursive, serif, or sans-serif, to find the one that complements your signature design. Remember, finding the best word font for your signature is about creating a unique and personal touch that leaves a lasting positive impression.
Conclusion
Choosing the best word font for signature is a personal choice that reflects your style and personality. It's important to find a legible, professional font that matches your signature's tone. Consider factors such as thickness, style, and readability when deciding.
Experiment with different fonts to find the one that best represents you or your business. Remember, your signature reflects your identity and should leave a lasting impression on those who see it. So take the time to find the best word font for your signature and make it stand out.
Frequently Asked Questions
1.What Is A Good Signature Font In Word?
Ans: Popular options like Great Vibes, Alex Brush, and Pacifico are worth considering when choosing a signature font in Word. Finding a font that aligns with your personal style and professionalism is crucial. Experiment with various fonts to discover one that feels unique and represents you well.
2.Is There A Signature Font In Word?
Ans: Word has no designated "signature" font, but you can select from various fonts. Fonts like Lucida Handwriting, Monotype Corsiva, and Signature Regular can provide a handwritten signature-like look. Experiment with different fonts and sizes to match your signature style best while considering legibility and readability.
3.What Font Type Looks Like A Signature?
Ans: Fonts like Great Vibes, Alex Brush, and Pacifico resemble handwritten signatures. These fonts have a cursive style that gives the appearance of a signature. Experiment with different cursive, script, or handwritten fonts to find the one that best emulates your signature.
4.What Is The Most Professional Font On Word?
Ans: Regarding to professional fonts in Word, options like Arial, Calibri, and Times New Roman are widely used and considered suitable for business documents. These fonts are clean, easy to read, and maintain a professional appearance. Experiment with different font sizes and styles within these families to find the one that best suits your needs.
5.What Font Is Best For Signature?
Ans: The best font for a signature would depend on your personal style and preference. However, popular options like Great Vibes, Alex Brush, and Pacifico are often chosen for their handwritten signature-like appearance. Experiment with different cursive or script fonts to find the one that represents you best.